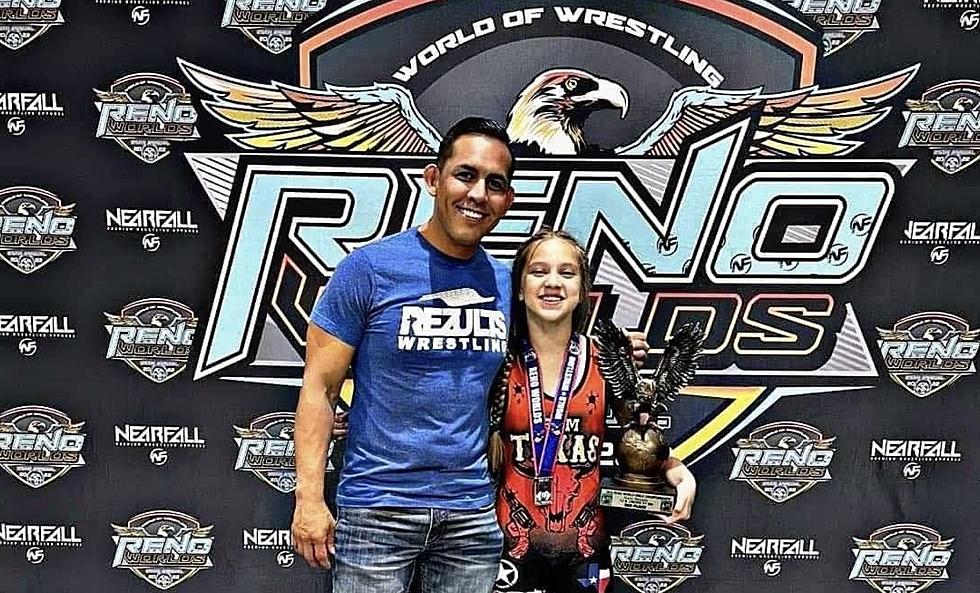 Lubbock 7th Grader Tessa Urias Takes 3rd Place at 2022 Wrestling Championship
Mackenzie Middle School via Facebook
World of Wrestling hosted their 25th annual Reno Worlds Championship this year from April 7th-10th in Reno, Nevada. This competition was an opportunity for girls from all over the United States to test their wrestling skills against other girls within the same age and weight bracket.
Lubbock's own Tessa Urias, a 7th grader at Mackenzie Middle School, competed this past weekend as the only girl from Texas in her division of 18 other girls. After competing against the other girls in her division, she earned 3rd place and one of the Reno World Championship Eagle trophies.
Urias fought hard and made not only her friends, family and Mackenzie Middle School proud, but all of Lubbock and the great state of Texas proud as well.
Urias' school proudly shared her photo on their Facebook page, thanking everyone for their support of Urias and letting everyone know of her great success. They also shared a word from Urias herself in regards to the support she received during the competition.
"They have no idea how much they helped me, my parents showed me all the moments and reactions and that gave me so much power within myself that I knew I could never give up. This one is for y'all," she said.
Putting yourself out there to compete in something you love is an amazing learning experience that I'm sure she will hold with her for the rest of her wrestling career. I want to personally congratulate Tessa Urias on her great success and I can't wait to see where she goes in the future.
10 Places to Get Shaved Ice in Lubbock
These are ten places you can get shaved ice in Lubbock to beat the summer heat.
5 Affordable Lubbock Airbnb Stays Available for Easter Weekend
Here are 5 Airbnb stays in Lubbock that are currently available for Easter weekend as of April 5, 2022.