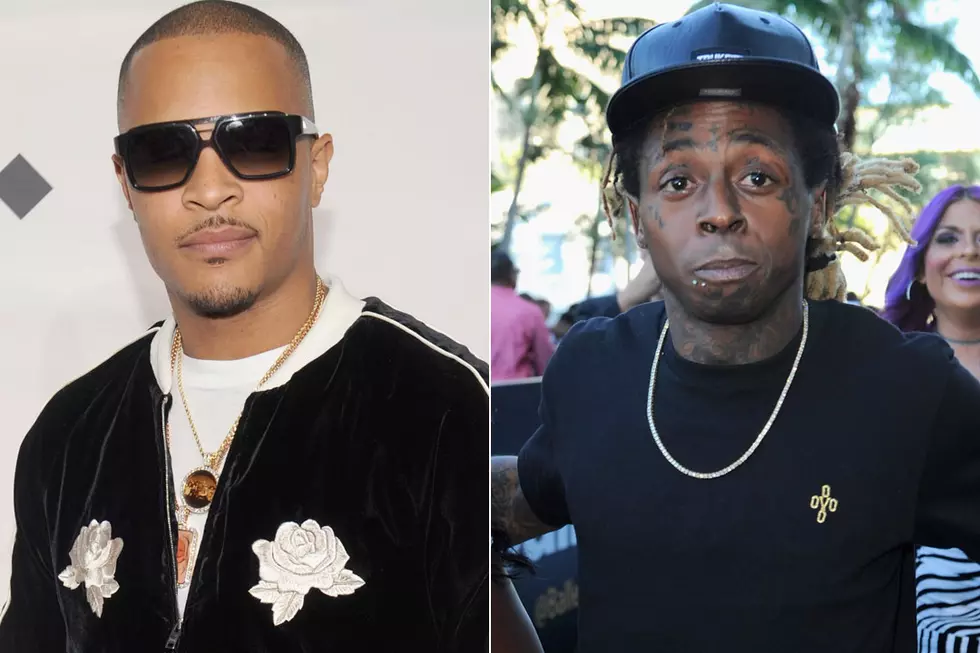 T.I. Says Lil Wayne's Black Lives Matter Comments Are 'Completely Unacceptable'
Brad Barket / Sergi Alexander, Getty Images
T.I. has publicly responded to Lil Wayne's controversial Black Lives Matter comments, in which the "Lollipop" rapper dismissed the movement entirely during a recent interview with ABC's Nightline.
"I don't feel connected to a damn thing that ain't got nothin' to do with me," Wayne said at the time, when asked by reporter Linsey Davis to expand on his thoughts regarding the organization. "If you do, you crazy as sh—t. Not the camera, you. Feeling connected to something that ain't got nothin' to do with you? If it ain't got nothin' to do with me, I ain't connected to it."
He then cut the interview short, though the rapper did offer a standard non-apology after the interview aired, saying, "Apologies to anyone who was offended."
After being alerted to Wayne's comments by his children, T.I. uploaded a clip of the interview to Instagram along with a lengthy, impassioned caption, imploring the Tha Carter III rapper to change his stance on racism and rescind his comments.
"I don't know what you goin thru, or what you are attempting to avoid but this sh---t is absolutely unacceptable!!!!" T.I. wrote, before reminding Wayne of his potential impact as a celebrity with an enormous platform. "You're disrespecting yourself, bringing shame on your family name & tarnishing your legacy. You have children (including mines prior to now) that have looked up to you. You have sons & a daughter that depend upon your leadership."
T.I. continued, saying he'd be willing to talk to Wayne to further his understanding of race relations in the United States.
"You have to get outta that bubble that you've been living in & get out here & educate yourself on what's going on around US!!!" he wrote. "I'm always here to share whatever knowledge or understanding I may have to assist your growth & development, but u MUST STOP this buffoonery & coonin' you out here doin."
The "Live Your Life" rapper also noted if Wayne's stance on racism and the Black Lives Matter movement doesn't change, he'd have no choice but to cut ties with the "A Milli" rapper.
"I've been proud to call myself a fan & a friend of Lil Wayne, but if that must end in order to stand up for those who can't do it for themselves...So be it." he wrote. "If you're not prepared for a question in an interview, say No Comment Bro.
"But stop embarrassing yourself & everyone out here who's been supporting you. There is no middle ground," T.I. continued. "Oppression knows no neutral party, either you're part of the oppressed, or you with the oppressor. There is no such thing as oppression not affecting you."
Lil Wayne did not comment directly on T.I.'s page, but he did tweet shortly after the post went up in what appears to be a response to the Instagram caption:
100 Hip Hop Facts You Might Not Know