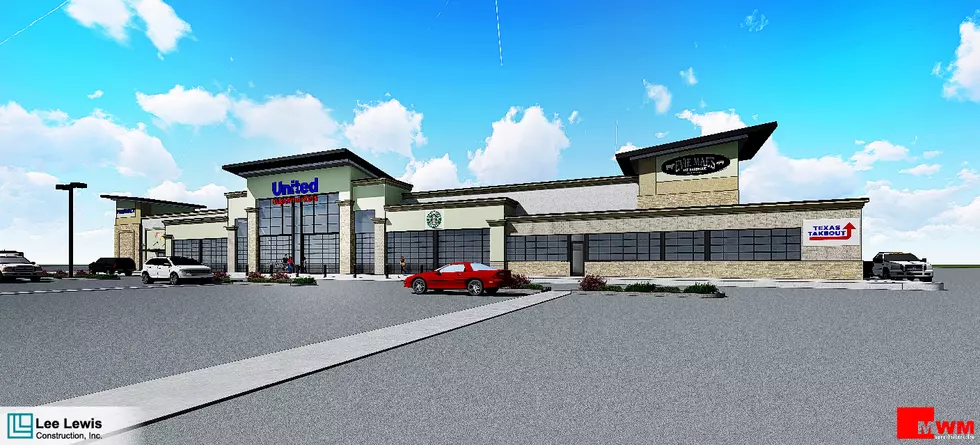 United Supermarkets Breaks Ground on New Store at 114th Street and Slide Road
MWM Architects & United Supermarkets
Enter your number to get our free mobile app
Tuesday morning (October 6th), United Supermarkets broke ground on their latest location in Lubbock. The new store will be located on the northwest corner of 114th Street and Slide Road.
United Supermarkets CEO Robert Taylor said the location is perfect for a new store in Southwest Lubbock.
"114th Street will soon be widened to six lanes, and Slide Road already provides easy access to not just Southwest Lubbock, but to New Home as well," Taylor said.
The new United Supermarkets location will be the company's 12th in Lubbock and is planned to open in Summer 2021.
One of the headlining features for the new United location is an in-store location for Evie Mae's Barbecue. The new store will also feature: a Tap House with craft beer and wine; a cooking station for Asian Bowls, plus Sushi Bar; Texas Take-out; Starbuck's; United Streetside grocery pickup, delivery; and a full-service bakery, floral department, and meat counter.
"It's often said at United, that we are in the service business, we just happen to sell groceries," Taylor said. "The support our guests have given us for 104 years makes it possible for us to reinvest in the community the way we do. We thank our guests for their loyalty so we can continue to be community partners."
Taylor also told KFYO News that this new United Supermarkets location will feature wider aisles and fewer 'touch points' for customers -- changes United has made due to the effects of coronavirus. Also starting next year, United Supermarkets will begin interior remodels for some of their South Plains stores outside of Lubbock.
About 250 new jobs will be added to the Lubbock economy with the new store's opening.
United Supermarkets also announced a $500,000 donation to the United Way for Lubbock and agencies across the South Plains.
"Even under very unique and challenging circumstances, we were able to pull off something pretty special this year," said Matt Corbin, marketing director for the United Family and Jackie Pierce Charity Classic Golf Chairman. "The tenacity of this organization and their vendor partners to roll up their sleeves and ensure the United Way agencies depending on them were not disappointed was amazing to see. The tournament went on – even without the golf."
See pictures from the groundbreaking event below
United Supermarkets New Store Groundbreaking 114th Street & Slide Road - October 6, 2020
---