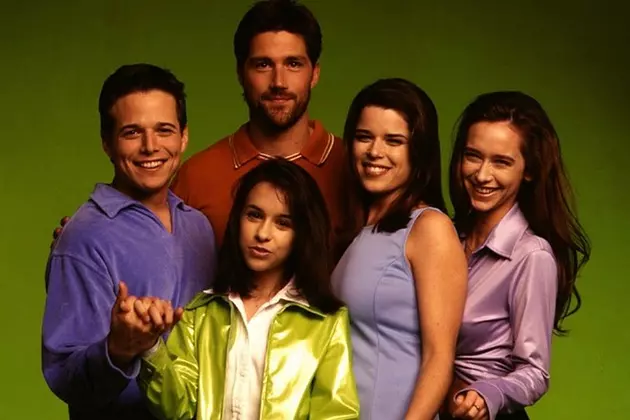 Then + Now: The Cast of 'Party of Five'
Fox
For six seasons between 1994 and 2000, it was one of the biggest teen dramas of the '90s: Fox's Party of Five was must-see TV, as fans tuned in in droves to see how the Salinger family was doing. This show about the children left behind after their parents died resonated with millions and turned the stars into household names.
So, what happened to everyone?
Neve Campbell (Julia Salinger)
Then: Campbell played Julia, a sensitive teen with whom many viewers could identify. She parlayed her success on the show to success on the big screen, scoring the lead role in the Scream franchise, as well as The Craft and the racy Wild Things.
Now: Campbell appeared on Britain's West End and even returned for Scream 4 back in 2011 while also doing a handful of guest appearances on Grey's Anatomy and Mad Men. More recently, she's appeared on Netflix's House of Cards.
Matthew Fox (Charlie Salinger)
Then: Fox's character, Charlie, became the de facto patriarch of the family, tasked with looking over everyone. He was a relative newcomer to Hollywood when the show launched, but his stubble -- oh, that stubble -- helped make him a star.
Now: If he thought Party of Five was popular, then imagine Fox's shock at the reception his follow-up series, Lost, received. Beloved by critics and audiences, the innovative ABC drama mesmerized viewers for six seasons. Since it left the airwaves, Fox has kept a relatively low profile, showing up in five movies and no TV shows whatsoever.
Scott Wolf (Bailey Salinger)
Then: A Hollywood veteran with scores of TV guest roles on his resume (including several uncredited spots on Saved by the Bell), Wolf emerged as the show's dreamboat. His romance with Jennifer Love Hewitt's character helped propel the drama.
Now: Wolf remains in demand, having appeared on a wide range of shows, including the short-lived The Nine, V and Everwood. He even did some guest hosting on Live With Kelly before Ryan Seacrest landed the co-hosting gig.
Jennifer Love Hewitt (Sarah Reeves)
Then: Hewitt was best known as an alum of Kids Incorporated when she signed on to Party of Five for season two, a career move that paid off in spades. She'd remain for the duration of the show's run, while arguably becoming the show's biggest star and sex symbol.
Now: Her character was the center of the short-lived spinoff Time of Your Life, but that didn't slow her down. She's done loads of movies (I Know What You Did Last Summer and Heartbreakers come to mind) and TV shows (Ghost Whisperer, The Client List and Criminal Minds are the big ones). She's married to former Client List co-star Brian Hallisay and they have two kids.
Lacey Chabert (Claudia Salinger)
Then: Precocious and a gifted musician, Chabert shined in her role as Claudia, the first major part of Chabert's career.
Now: Chabert did the movie thing, appearing in Mean Girls, Not Another Teen Movie and Daddy Day Care, but she's really hit her stride by starring in eight – count 'em, eight – Hallmark movies. She's now married with two kids.
Paula Devicq (Kirsten Bennett Salinger)
Then: Devicq played Kirsten, who was hired to look after Owen. She and Charlie eventually become an item.
Now: After the series ended, she continued to work, landing roles on various shows, such as Rescue Me and Law & Order. And here's a fun piece of trivia: she was once romantically linked to Scott Wolf. Mind blown, right?
Jeremy London (Griffin Chase Holbrook)
Then: London, who had previously had success on the drama I'll Fly Away, played Griffin, a teen with his own set of problems who found a companion in Julia. He was a recurring character in the early years before becoming a part of the cast in the series' final three seasons.
Now: London would later go on to enjoy a nice run on Seventh Heaven and continues to act in a series of movies you've probably never heard of.
Scott Grimes (Will McCorkle)
Then: Grimes' Will was Bailey's best friend. By the time Party of Five debuted, he was a seasoned pro who had appeared on dozens of shows, ranging from Charles in Charge and My Two Dads to Who's the Boss? and 21 Jump Street.
Now: Grimes hit paydirt providing the voice of Steve Smith on American Dad. He's also been in front of the camera, landing spots on shows such as ER, Justified, NCIS, NCIS: Los Angeles, Band of Brothers and Dexter, among others. Bottom line: this guy's resume is long and he may have the most consistent career of anyone from Party of Five.
20 Must-See TV And Movie Cast Reunions: