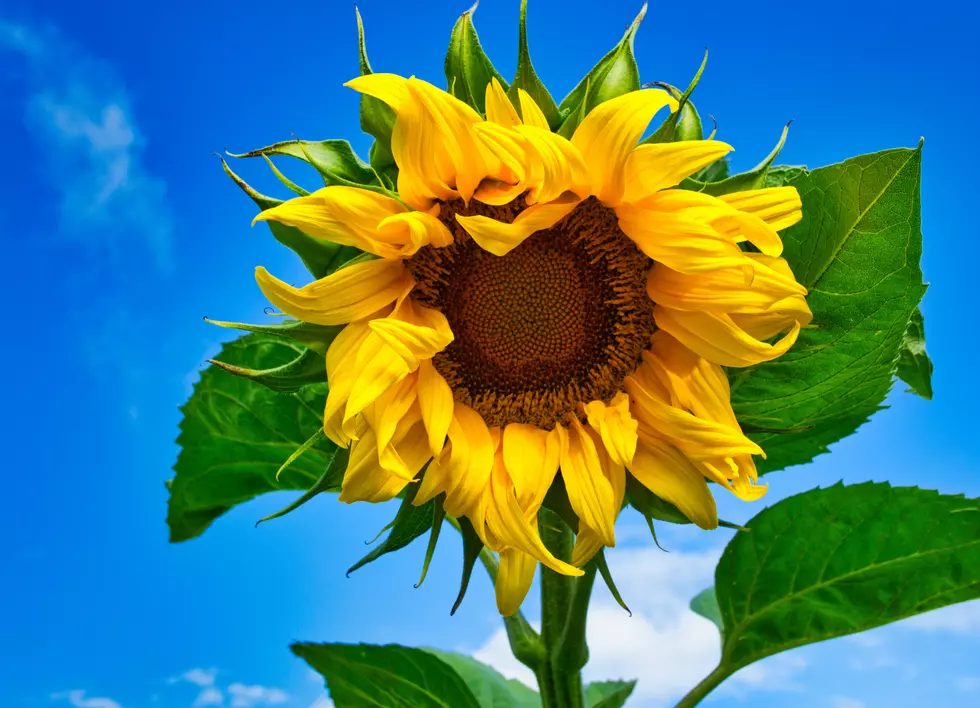 Start Your Day Off Bright at At'l Do Farms' Opening Day
Photo by Олександр К on Unsplash
The forecast is looking sunny for opening day at At'l Do Farms, and we're not just talking about the weather. The farm just announced that their sunflower field blossomed early this year, which means that folks will want to plan their visit in September if they want to snag some of these beautiful blooms.
Owner Patti Simpson notes that this timing is thanks to Mother Nature.
"We planted the sunflowers after all of the rain, which has given them this boost," she said.
This attraction is relatively new to the farm, but there is a great amount of purpose behind it. Besides the obvious fun that comes with picking this vibrant flora, this additional crop is beneficial to the farm.
"We're doing this to enrich the soil because planting corn for 20 years in a row on the same land starts depleting the soil, the nutrients, and the minerals that it needs to have a healthy crop on it. So we're rotating in multi-species crops, sunflowers, and pumpkins," Simpson said.
What this means is that all the fan favorites will be out at the farm, but they may be situated in a different spot on the grounds. Not only that, but in case you missed it, their maze will not be made of corn this year. Instead, it will be a combination of crops, including sorghum, millet, and those spectacular sunflowers. This equates to a taller and thicker maze for visitors to wander through.
They will be opening their gates at 10 a.m. Saturday, September 17th, and you better be-leaf that all of their awesome attractions will be ready to enjoy. On top of the Prairie Dog Pete-themed maze and the stunning sunflowers,  At'l Do Farms also has a magical pumpkin patch, hay and pony rides, a cow train, fall food and drinks, corn cannons, and barnyard animals.
Patti and her husband James are thrilled for folks to come out and visit this season.
"We just try to offer a unique environment. Our farm is a fun place to come be outdoors and experience the beauty of fall. People of all ages have a good time," Simpson said.
The farm will be open Tuesdays through Fridays from 6 to 9 p.m., Saturdays 10 a.m. to 9 p.m., and Sundays from 2 to 9 p.m. Tickets are $12, and kids under four get in free. Their season will be starting tomorrow Saturday, September 17th and will run through Saturday, November 5th. Make sure to head out and enjoy this West Texas tradition.
The 12 Most Breathtaking Views in Texas
Texas is known for football, barbecue, cattle, and oil. What many people don't realize is that our great state should also be known for its waterfalls, swimming holes, mountains, and caverns. Thus, we take a look at the natural wonders of Texas that you will definitely want to add to your bucket list!
Top 12 Unexpected Animals of Texas
No matter if you live in the Wild West, in the suburbs of North Texas, or along the salty seashore of the Gulf Coast, Texas has a wide array of animals that call the Lone Star State their home and some of them may surprise you!
Top 7 Ways to Save Your Lawn During This Drought
With regular watering sessions restricted to two times per week paired with the scorching summer heat and the continuing drought, many Lubbock residents are struggling to keep their lawns alive. Here are some simple tips for keeping things green.