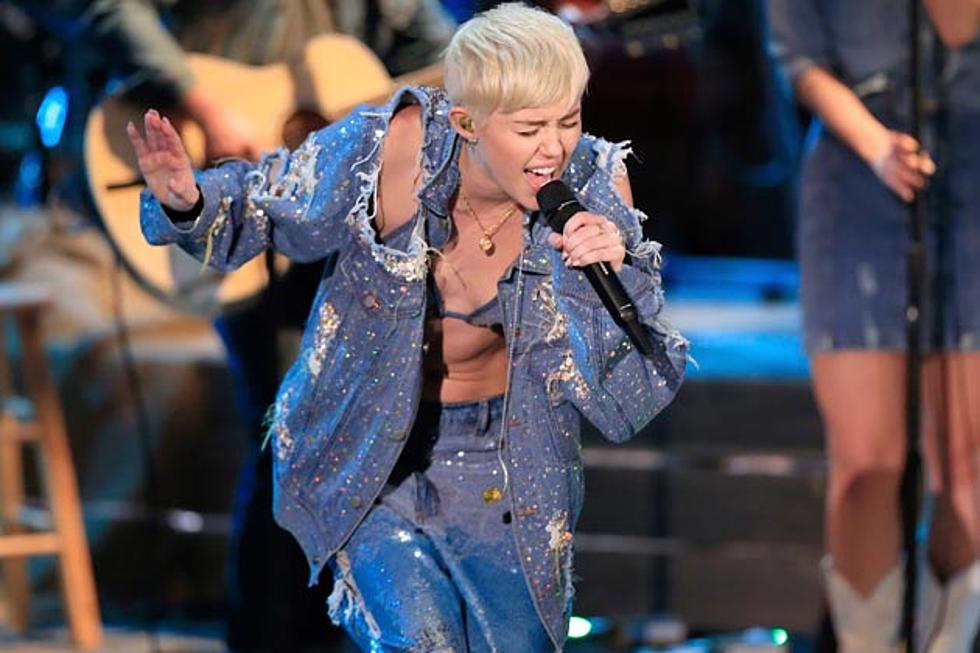 Miley Cyrus, 'Adore You' – Song Meaning
Christopher Polk, Getty Images
Wait, what's this? Miley Cyrus, vulnerable? Yep, she sure is in the space of 'Adore You,' the sincere ballad that opens 'Bangerz.'
It's decidedly not a banger. It's Miley laying her emotional cards on the table; she wastes no time trying to perfect a poker face. She is not shy about showing her love for the man she wants to marry.
We'd be lying if we said we didn't think this song was somehow, some way influenced by her ex-fiance, Liam Hemsworth. They were engaged while she wrote and recorded the album, and she talks about matrimony. Despite their split last September, it doesn't negate the power of the shared love Mi Cy sings about in the song.
Here's our read of the song's meaning.
"Baby, baby, are you listening? / Wondering where you've been all my life / I just started living / Oh, baby, are you listening? / When you say you love me / Know I love you more / And when you say you need me / Know I need you more / Boy, I adore you, I adore you."
How's that for honesty? She is so in love with her man that she only now feels alive. That's L-O-V-E. And while on the surface it seems she is making it competitive -- she loves and needs him more -- that's not the case, and it's not really what she is doing. She is just courageous and brave enough to express that she loves him so much that she might burst.
"I'm scared oh, so scared / But when you're near me / I feel like I'm standing with an army / Of men armed with weapons."
Miley's narrator is so in love that all her fears fall by the wayside when she is with him. It's her and him against the world when they are united in love. Aw... doesn't it make you yearn for the time when she and Liam were a happy duo?
"I love lying next to you / I could do this for eternity / You and me / We're meant to be / In holy matrimony / God knew exactly what he was doing / When he led me to you."
There's the marriage reference, which is obvious. But how about that mention of God? That's big. She believes that a higher power brought them together, and that's something you can't mess with. While we know in real life that Miley and Liam didn't work out, perhaps a future love will for her. Without being quite so literal, the song is about the ability to love unconditionally, with purpose, for life and while blessed and sanctioned by a higher power. It's as though she is saying that we need to recognize when we were given then greatest gift: LOVE! All too often we overlook the power of love.
That's our read of Miley Cyrus' 'Adore You.' PopCrushers and Smilers, what do you hear when you listen to the song?
Listen to Miley Cyrus' 'Adore You'