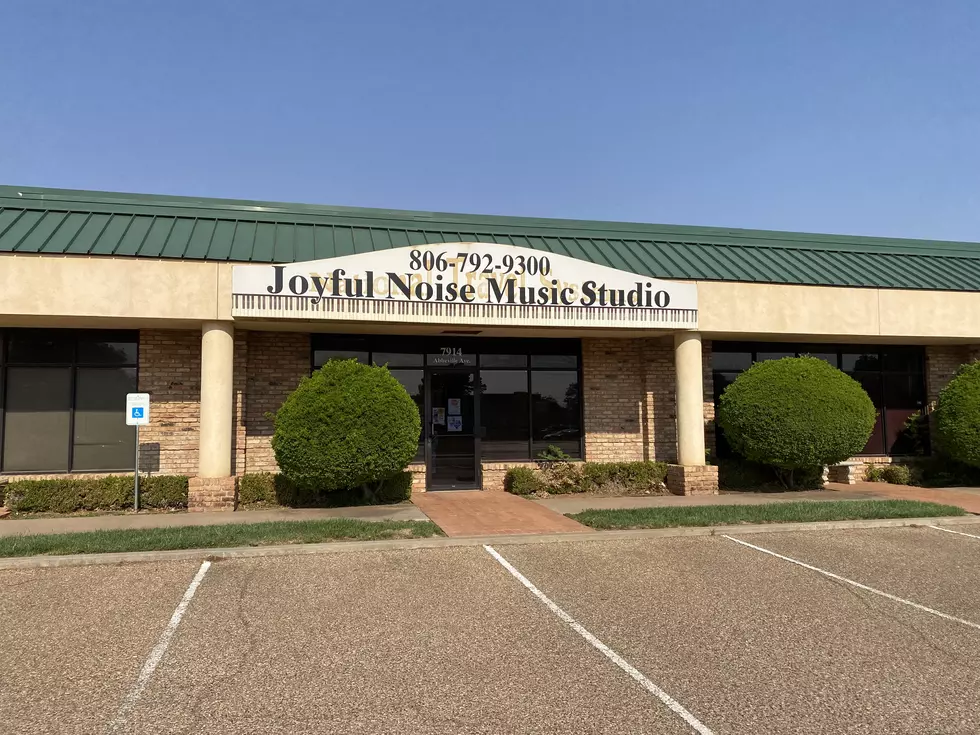 Lubbock's Joyful Noise Offers Fun Kid's Camps & Classes This Summer
Credit: Heidi Kaye, Townsquare Media
Did you know that an early introduction to music has been proven to boost a child's cognitive, social and physical development? In fact, research conducted at McMaster University found that "one-year-old babies who participate in interactive music classes with their parents smile more, communicate better and show earlier and more sophisticated brain responses to music." It also found that these children were easier to soothe, which I am pretty positive is every parent's dream.
For parents in the Hub City who would love to engage in these types of activities, you're in luck. Joyful Noise Music Studio is an amazing resource for kids and adults alike. They offer semester classes, summer camps and even private lessons to assist anyone in achieving their artistic desires. Their students range from as young as four weeks old all the way up to folks in their seventies.
For the younger clientele, Gail Smith, owner and veteran music teacher, notes that their classes bring a multitude of benefits.
"We focus on six developmental skills -- cognitive, language, physical, social, emotional, and musical. So it's helping their young brains to develop. It's also going to help them to do better in school and better in sports because of all the rhythm that's involved," said Smith. "And of course, they don't know that. They're just having fun."
Their summer semester and summer camps will all begin at the beginning of June. If you choose to enroll in the semester courses for infant and toddlers, classes meet once weekly for 45-minute sessions and go for seven weeks. These provide an immersive musical experience that involve both you and your little one. They will sing, play with instruments, and even move around throughout the class.
Additionally, their mini camps will be themed and offered weekly. These afternoon sessions will be three days long and will let your kids try their hands at drumming, guitar, jazz and even sound engineering. Here is there official camp schedule:
ROCKIN' BAND – June 6-8, 1:00-3:00, ages 8 yrs and up
Come join the fun as students work together to form a Rock Band. If you have any experience playing an instrument, that's awesome, if not, come anyway and we will teach you!
BOOT SCOOTIN' FUN – June 13-15, 1:00-3:00, ages 8 yrs and up
Do you like country music? You will love this camp! Students will form
a country band so bring your instrument or voice and join us for some toe tapping, thigh slapping, boot sootin' fun!
FIDDLE TUNES – June 13-15, 1:00-2:00, any age with some experience on violin
Violin students want to have a little fun? Grab your violin and come along as we explore fiddle tunes. You will love seeing how playing a different type of music
is sooooo fun! You will enjoy sharing what you have learned with your family, and get ready, they will be smiling and tapping a toe as they watch!
YOUNG ROCKIN' & ROLLIN' - June 20-22, 1:00-3:00
Oh my! Everyone ages 4-10, come join us for a rockin' and rollin' time! We will play along to a rockin' song with instruments, drums, and even a little dancing! For students who have been in our classes and for those who have absolutely no experience at all! We will have a great time!
STRUMMING ALONG WITH GUITAR – June 20-22, 1:00 – 2:00, ages 7 yrs and up
Guitar students will love playing together as a group! This camp is for those who have been playing some already, but for those who have no experience, join us! You will be strumming chords before you know it! This camp is also a great way to see if you really are interested in learning the guitar!
LIFT YOUR VOICE! - June 27-29, 1:00-3:00, ages 8 yrs and up
Students who love to sing...... join us! We will have a great time using our voices to make a joyful noise, as we learn techniques to make each individual voice better. Please don't be shy! Even if you have no experience at all, you will love this camp. Your voice doesn't have to be perfect, just come let us teach you how to improve as we have a great time together!
DRUMMING EXPLORATION! – July 11-13, 1:00-3:00, ages 4 yrs – 10 yrs.
Fun! Fun! Fun! You have to join us for a great time of exploring rhythm on just about everything! We will use buckets, balls, drum pads, drum set, and more, as we learn: how to play rhythms together. You will love this!
SONGWRITING 101 – July 11-13, 1:00-3:00, ages 10 yrs and up
Have you ever had a tune going along in your head that you didn't
quite know where it came from? Or maybe you have written words that would work great for a song? We will put all of that together and show you how to write your own song! Even if you have not ever thought about it, but want to check it out, come along, it will be fun!
SOUND ENGINEERING – July 18-20, 1:00-3:00, ages 10 yrs and up
For those of you who might be interested in learning how to record, this is the camp for you! Using computer for sound engineering will be fun to learn and a great tool to use on your own.
UKULELE FUN- July 25-27, 1:00-3:00, ages 4 yrs and up
This is one of our favorite camps. We will have two groups: one group who has no experience and the other group for those who having been playing for a while. Ukulele is such a great instrument to learn and can be used in so many settings.
It is also a great introduction to the student who really wants to learn guitar, but isn't quite big enough. We also have great ukulele's in a variety of different colors that you may purchase. You don't want to miss this one!
JAZZ IT UP- Aug. 1-3, 1:00-3:00, ages 10 yrs and up
Some experience on any instrument encouraged!
Anyone like a little jazz? This is the camp for you! Learn improvisation, playing by ear and much more!
Price for each camp is $99.00 with discounts on each additional camp you take. These will include a short breaks for games and a snack will be provided each day. Feel free to call them at 806-792-9300 for more information. They're located at 7914 Abbeville Ave. in Lubbock, Texas.
You can also find more information about their services on their official website. These fun classes are the perfect summertime activity to spur your child's love of music and wear them out at the same time.
Follow These 10 Tips to Keep Your Kid's Skin Sun Safe
Here's how to make sure your kids' skin is protected in Texas' scorching summer heat.
Simple Snack & Meal Ideas to Keep Your Kids Hydrated on Triple Digit Days
All of these delicious foods are at least 70% water! Including them in your kid's diet is an easy way to help prevent them from becoming dehydrated!
Top Eight Ways To Prepare Your Pets for a Baby
Rebecca Johnson, Certified Professional Dog Trainer (CPDT-KA) and Licensed
Family Paws
Parent Educator, highlights the best methods for success in this venture!