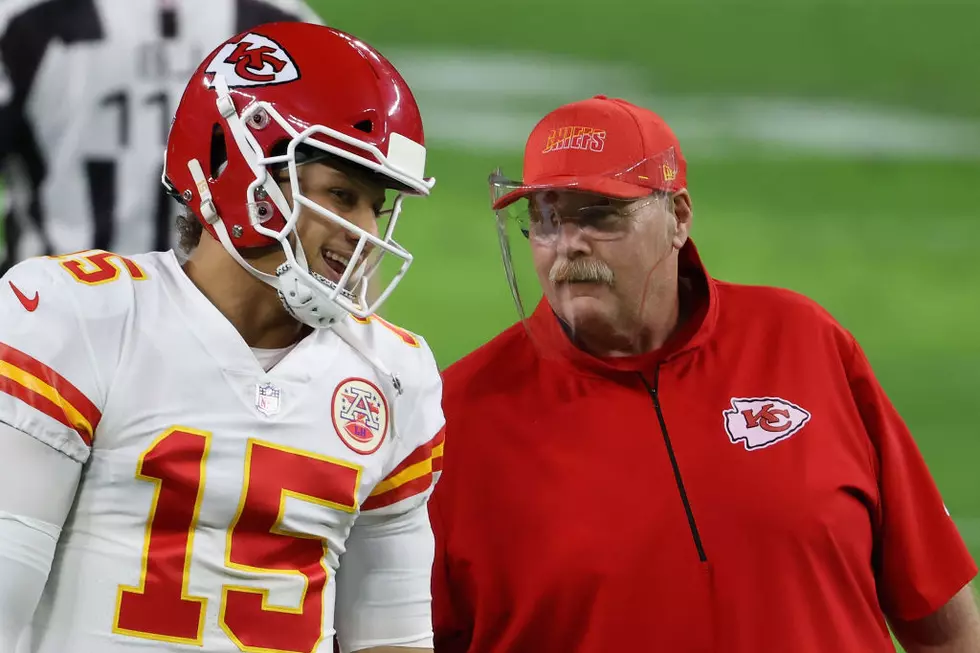 Kansas City Chiefs Coverage All-Day Sunday on Talk 1340
(Photo by Christian Petersen/Getty Images)
Enter your number to get our free mobile app
For the second straight season, the Kansas City Chiefs are playing in the Super Bowl, and you can get ready for the big game on Sunday by listening to Talk 1340, and the Talk 1340 App. Our special Super Sunday programming starts Sunday morning at 7am and continues through 10pm.
The Chiefs Radio Network special, "The Road to Tampa", gets things started at 7am. Hosted by 'The Voice of the Chiefs', Mitch Holthus, he's joined by Dan Israel, Danan Hughes, and Josh Klingler, as they recap the Chiefs stellar 2020 season. "The Road to Tampa" will repeat at 10am & 1pm on Sunday on Talk 1340.
Then, from 8am-10am, 11am-1pm, and 2pm-3pm, listen to the best Big Game Interviews from Ryan Hyatt's Raiderland. Over the past two weeks, Ryan Hyatt and Rob Breaux have talked to anyone, and everyone you can think of, to cover every angle for Sunday's game.  Interviews include: Dan Israel with the Chiefs Radio Network, Wes Reynolds and Matt Youmans from VSiN- the Vegas Stats & Information Network; Texas Tech President Dr. Lawrence Schovanec, Kansas City Mayor Quinton Lucas, Andrew Keese from FOX 13 in Tampa Bay, Pat Morrow from Bovada with the latest odds and prop bets, and Dave Schoffer from Pavone Marketing talking about this year's Super Bowl commercials.
Talk 1340 will also air the Chiefs Radio Network pregame show Sunday afternoon at 3pm, and then air live coverage from VSiN- the Vegas Stats & Information Network from 4pm-10pm.
Finally, just like with the AFC Championship Game two weeks ago, Awesome 98 (98.1 FM) will air the Chiefs Radio Network Postgame show, starting at approximately 9:40pm.
Lubbock's radio stations for the Kansas City Chiefs - Talk 1340 and Awesome 98
CHIEFS- RELATED PROGRAMMING FOR SUPER SUNDAY, FEB. 3rd
Airing on Talk 1340, KKAM.com and the Talk 1340 App:
7am-8am  "The Road to Tampa" from the Chiefs Radio Network
8am-10am  Best Big Game Interviews from Ryan Hyatt's Raiderland
10am-11am  "The Road to Tampa" from the Chiefs Radio Network
11am-1pm  Best Big Game Interviews from Ryan Hyatt's Raiderland
1pm-2pm  "The Road to Tampa" from the Chiefs Radio Network
2pm-3pm  Best Big Game Interviews from Ryan Hyatt's Raiderland; including Ryan Hyatt's & Rob Breaux's picks
3pm-4pm  Chiefs Radio Network Pregame (LIVE from Raymond James Stadium)
4pm-10pm  The Green Zone from Vegas Stats & Information Network (LIVE)
Airing on Awesome 98 (98.1 FM):
Approx. 9:40pm-11pm  Chiefs Radio Network Postgame (LIVE)