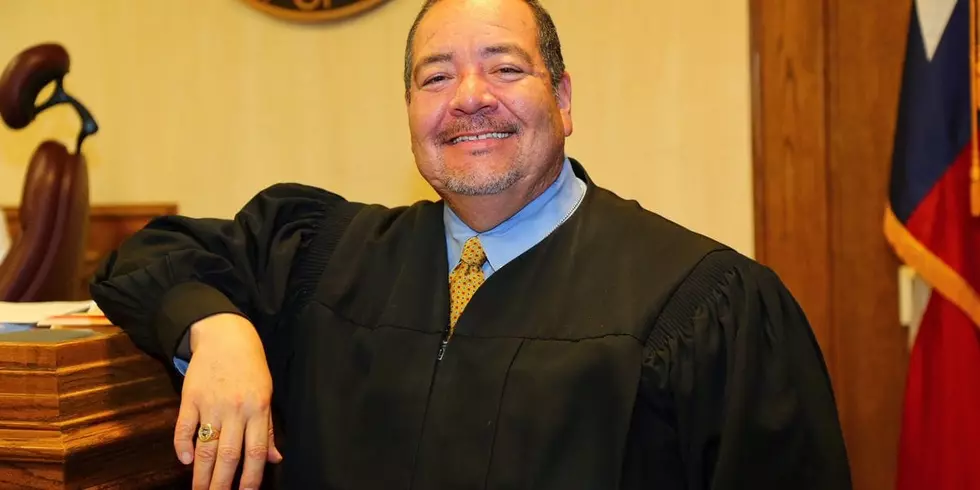 Judge Ruben Reyes Passes Away
Judge Ruben Reyes (Lubbock County Republican Party via Facebook)
One of Lubbock's elected officials has passed away.
Sunday morning, Lubbock County Judge Curtis Parrish, announced the passing of Judge Ruben Reyes. Judge Reyes died on Saturday, December 12th, after a battle against COVID-19. He was 56 years old.
Judge Reyes had served as the judge for the 72nd District Court since 2006, which includes Lubbock and Crosby counties. Judge Parrish noted that Judge Reyes was instrumental in the operations for the Lubbock County Drug Court. One of Judge Reyes' career honors was being elected to chair the National Association of Drug Court Professionals in 2015.
Congressman Jodey Arrington also praised the work of Judge Reyes.
"West Texas lost one of its finest public servants in Ruben Reyes," said Rep. Arrington. "Judge Reyes was nationally recognized for his fairness, compassion, and high standards of excellence serving on state advisory courts for Governors Perry and Abbott as well as chairing a national drug court association. He was the model citizen and servant leader who left his community better than he found it - they just don't get any better. He left us too soon, but we trust our friend, Judge Reyes, has entered eternity and is resting in the arms of his Heavenly Father."
---
Lubbock attorney Kevin Glasheen said on Facebook: "Judge Ruben Reyes. I'm so disappointed to hear that we lost him to Covid. Ruben had a lot of life ahead of him, and more to give to this world - he is gone too soon. Reuben was a good man, a smart, well educated, polite, hard working, caring and gentle man. I'm proud that I was able to practice law in Ruben's court. He was patient and courteous with lawyers, but always held lawyers to the highest standards is the profession. My favorite thing about Ruben was the work he did for the drug courts. Ruben had empathy, and was willing to work hard to help others who were struggling. Ruben was a man of faith, which he showed in his actions. Ruben loved the law, lawyers, and loved his job, Judge Reyes always had a smile and a kind word. He was a good man. Ruben was from Lubbock, and it always made me proud that Lubbock had raised him. I will miss him."
According to Judge Parrish, the flags at all Lubbock County buildings will be lowered to half-staff to honor the memory of Judge Reyes.
Enter your number to get our free mobile app
In Pictures: What Education Looks Like Around the World During a Pandemic