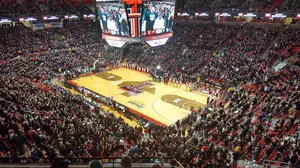 It Ain't Over 'Til It's Over for Red Raider Basketball
driver
Call me crazy, but the Red Raider basketball team still has much to play for.
There's still a chance that they could earn a share of the Big 12 regular season championship. Hell, if the US Olympic Curling Team can win a gold medal, you never know what this next week could bring.
It's a long shot, but here's what would have to happen:
Texas Tech wins in Morgantown, West Virginia on Monday night, then again on Saturday, March 3 at the United Supermarkets Arenas on Senior Day against TCU.
Two very doable possibilities.
Kansas, who looked pretty stout yesterday in claiming a share of the title with a thrilling 74-72 win over Texas Tech, would have to lose at home on Monday night against the Longhorns, then lose on the road at Oklahoma State next Saturday.
I know this is a long shot scenario...but, it ain't over 'til it's over.
No matter how it plays out this week, I want to personally thank the Red Raiders for taking us all on a very thrilling ride this year.