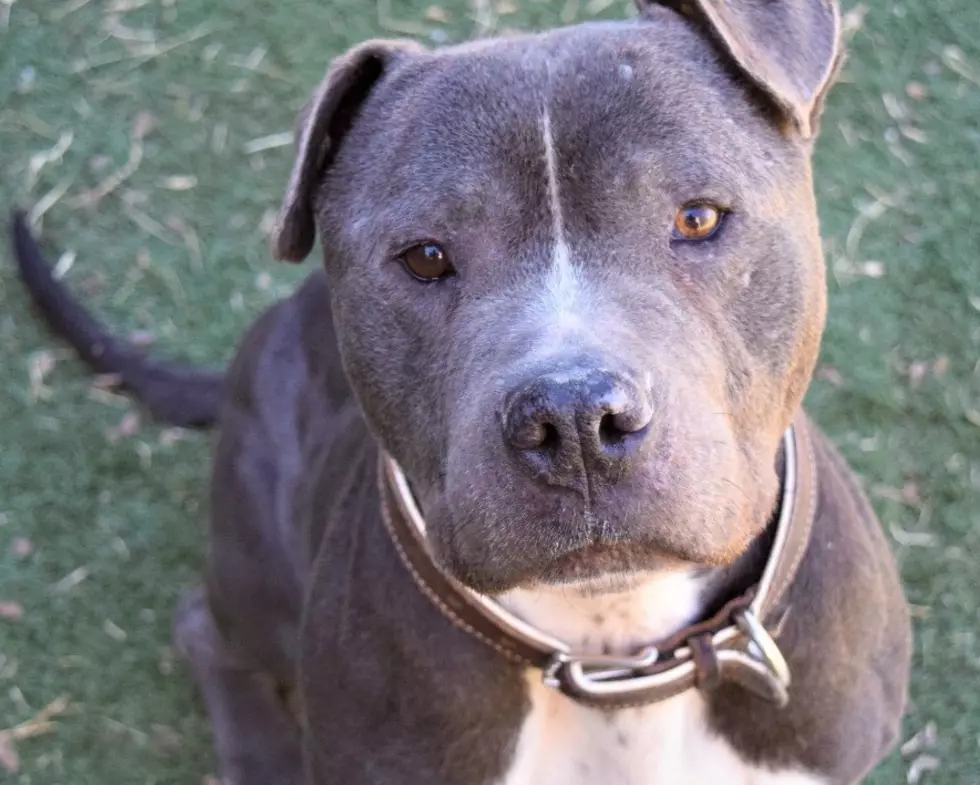 Beautiful Blue Anderson Is Lubbock's Awesome Adoptable Pet of the Week
Lubbock Animal Shelter
Animals of all coat shades are gorgeous, but there's something just enchanting about a beautiful blue coat. My cat is a Russian Blue, and his silky shimmery pewter coat gets so many compliments. A blue coat on a dog is a stunning and fairly rare feature.
Anderson has this lovely coat shade, in addition to soulful brown eyes and the cutest floppy ears. He is a foster return through no fault of his own, so he's very ready for a more permanent situation. But he'll take another foster, too! Here's his description from the Lubbock Animal Shelter & Adoption Center:
Anderson is a 8 year old male Pit Bull who has been with us for 14 days, but he is a foster return due to no fault of his own. He is very sweet, but he will have to be the only dog in the house he does not like to share the loving. He is up to date on his shots, fixed, and microchipped.
At 8 years old, Anderson is past those puppy antics and ready for more calm fun with a family all to himself. You can meet and greet Anderson at the Lubbock Animal Shelter and Adoption Center, located at 3323 SE Loop 289. The shelter is open Monday through Saturday, 10 a.m. to 7 p.m. There are many worthy, loving, beautiful, and amazing animals that are waiting for their fur-ever home.
And remember, when you adopt through LAS, you save a ton on your animal's initial vetting, because all their animals come up-to-date on their shots, with a microchip and either spay or neuter, or with a voucher to do so when they are ready.
LOOK: Stunning animal photos from around the world
From grazing Tibetan antelope to migrating monarch butterflies, these 50 photos of wildlife around the world capture the staggering grace of the animal kingdom. The forthcoming gallery runs sequentially from air to land to water, and focuses on birds, land mammals, aquatic life, and insects as they work in pairs or groups, or sometimes all on their own.
Whoa: 12 Amazing Treehouses You Can Stay at in Texas
A Brief History of Texas Tech Men's Basketball in the NCAA Tournament