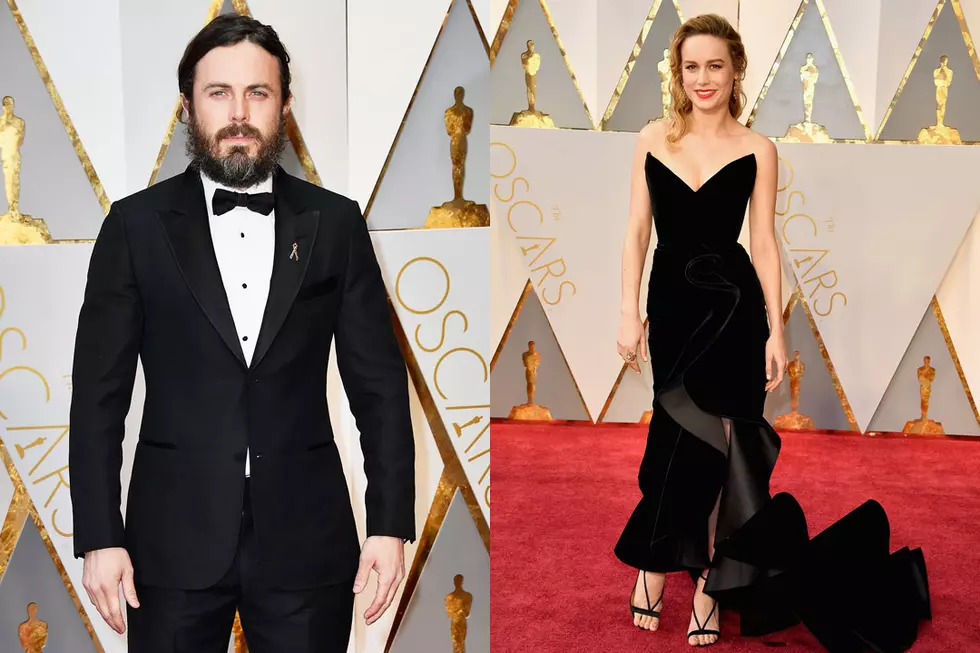 Brie Larson Refuses to Clap at Casey Affleck's Controversial Oscars Win
Jeff Kravitz, Getty Images
When Casey Affleck took home the Best Actor Academy Award for his lead role in Manchester By the Sea on Sunday night (February 26), his victory was a somewhat controversial one. While Affleck's performance in the movie has been critically lauded, people including Fresh Off the Boat star Constance Wu have been voicing dissent since his Oscar nomination, given that he was previously the subject of two separate sexual harassment cases with some disturbing details — adding Affleck to a list of Academy-honored men surrounded by dark allegations of abuse of women that includes Woody Allen, Roman Polanski and Mel Gibson. On Sunday, those surprised and in some cases dismayed by Affleck's win rallied around Brie Larson's perceived lack of enthusiasm (among others').
As last year's Best Actress winner, Larson presented this year's Best Actor category per tradition. While interpreting her internal reaction is pure conjecture, Larson's face appeared to betray no joy when she opened the envelope and announced Affleck's name. She then declined to clap as he made his way onstage to accept the award.
Larson, an advocate for sexual assault survivors who played a rape survivor herself in Room, went out of her way to hug the male and female survivors of sexual abuse who joined Lady Gaga onstage during her performance of "Till It Happens to You" at the 2016 Oscars.
So what makes Casey Affleck's win so controversial? As the Daily Beast re-reported in November 2016 amid Affleck's initial awards season buzz, the actor was first sued by producer Amanda White over his alleged behavior during the production of his 2010 mock-documentary I'm Still Here starring then brother-in-law Joaquin Phoenix.
In December 2008, Amanda White agreed to serve as a producer on an untitled documentary headed by Affleck and Flemmy Productions, which ultimately became I'm Still Here. She had a decade-long history of working with Affleck. Over the course of filming, White alleged in the complaint that she was repeatedly harassed. On one occasion, she claimed that Affleck ordered a crew member to take off his pants and show White his penis—even after she vehemently objected. She claimed that Affleck repeatedly referred to women as "cows," and recounted his sexual exploits with reckless abandon. In her complaint, White recalled Affleck asking her "Isn't it about time you get pregnant?" once he learned her age, and suggesting that she and a male crew member reproduce.
White, who filed a lawsuit in July 2010, additionally claimed that Phoenix and Affleck — who was still married to the mother of his two kids, Summer Phoenix — locked themselves in her room to have sex with two women there, and that Affleck later grabbed White after she refused to share a hotel room with him and then sent her abusive, name-calling text messages.
Meanwhile, I'm Still Here director of photography Magdalena Gorka also left the film due to complaints of similar harassment from Casey Affleck, and described the things that happened as "the most traumatizing of her career." In the gravest accusation, Gorka alleged that Affleck climbed into bed with her uninvited when the cast and crew slept at Affleck and Phoenix's apartment instead of a hotel at the actors' behest.
According to Gorka's complaint, she awoke in the middle of the night to find Affleck lying in bed next to her. She alleges that the actor was "curled up next to her in the bed wearing only his underwear and a T-shirt. He had his arm around her, was caressing her back, his face was within inches of hers and his breath reeked of alcohol." Unaware of how long Affleck had been there or whether or not he had touched her while she slept, Gorka said she was "shocked and repulsed." When she ordered Affleck out of bed, he allegedly responded, "Why?" to which she replied, "Because you are married and you are my boss." Affleck then allegedly asked if she was "sure," and when Gorka remained resolute, she claimed Affleck "left and slammed the door in anger."
Gorka also claimed a "nearly daily barrage of sexual comments, innuendo, and unwelcome advances by crew members, within the presence and with the active encouragement of Affleck."
Though both White and Gorka alleged that Affleck retaliated against their complaints, the actor eventually settled the lawsuits for undisclosed sums through mediation. They both received credit for working on I'm Still Here, which grossed less than a half-million dollars at the box office.
Affleck made what seemed like an oblique reference to the 2010 suits during his Golden Globes acceptance speech, when he said, "It's my kids who give me permission to do this because they have the character to keep at bay all the noise that sometimes surrounds people who live publicly."
2017 Oscars Red Carpet Photos: Best-Dressed (and Worst-Dressed) of the Night