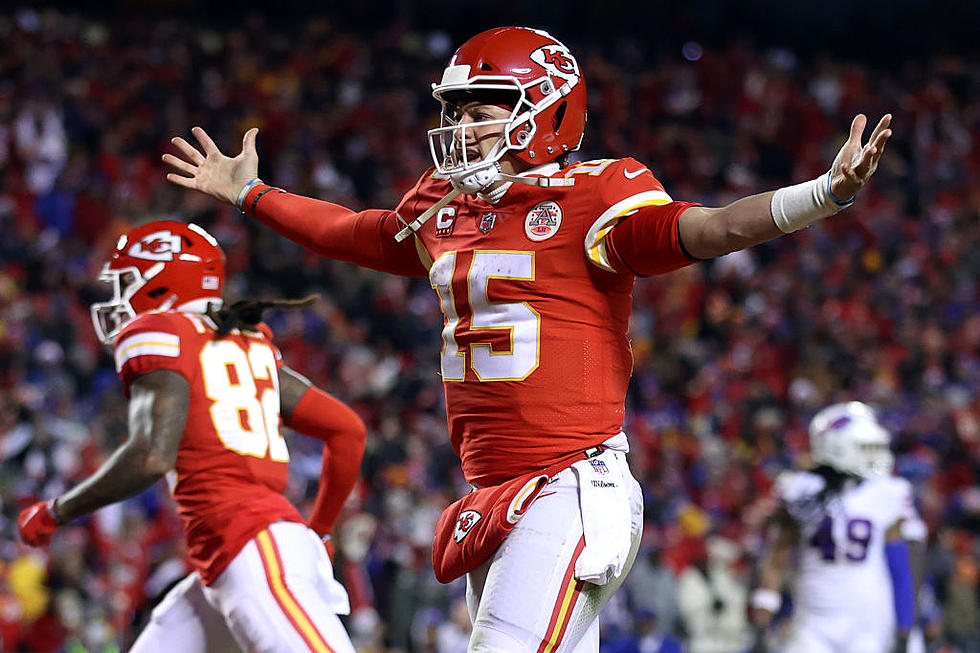 This Chiefs Fan Was All Of Us Tonight Watching Mahomes
Jamie Squire, Getty Images
The NFL weekend was an incredible slate of games, with all four contests being won or lost on the final play. The Cincinnati Bengals walked off the Tennessee Titans with a field goal. Then, the San Francisco 49ers did the same to the Green Bay Packers. The L.A. Rams avoided an epic collapse by kicking a game-winner against the Tampa Bay Bucs, too. That all led up to Buffalo in Kansas City, with QB Josh Allen vs Patrick Mahomes, and boy-howdy did it live up to the hype.
The entire game was amazing, but the final two minutes was an entire game's worth of action in itself. Mahomes threw for 177 yards...AFTER THE TWO-MINUTE WARNING.
The Bills took a lead with less than two minutes to go. Mahomes threw a touchdown pass to Hill with about 50 seconds left to retake the lead. Allen responded with a touchdown pass with 13 seconds left to retake the lead and end the game. Or so Twitter thought. Mahomes completed two passes to get from the 25-yard line into field goal range for Harrison Butker to tie the game.
In overtime, Mahomes would walk the Chiefs down the field and find Travis Kelce in the endzone for the game-winner.
This man captured the entire sequence on his Ring camera:
It was truly a wild ride. One that we all went on together.
After the game, Twitter exploded with takes about overtime, Josh Allen, and, of course, Patrick Mahomes.
Andy Reid with the epic quote after the game:
A graph for the visual learners about the end of that game:
A commentary on NFL overtime rules:
An unnecessary, but accurate, tweet about the Dallas Cowboys:
Texas Tech's current QB tweeting about Texas Tech's former QB:
Kent Hance doing the Kent Hance tweet:
Thirteen seconds left, and Larry was still right:
Thirteen seconds. It's unreal.
Seriously, I don't know how to quantify Mahomes' finish to that game.
Bonus: a ridiculous throw from earlier in the game.
The 36 Best Action Shots From Every Patrick Mahomes Playoff Game
39 Stunning Photos of Patrick Mahomes' Kansas City Castle
Patrick Mahomes lives in Kansas City, Missouri, but could be in Kansas City, Kansas by crossing the street.