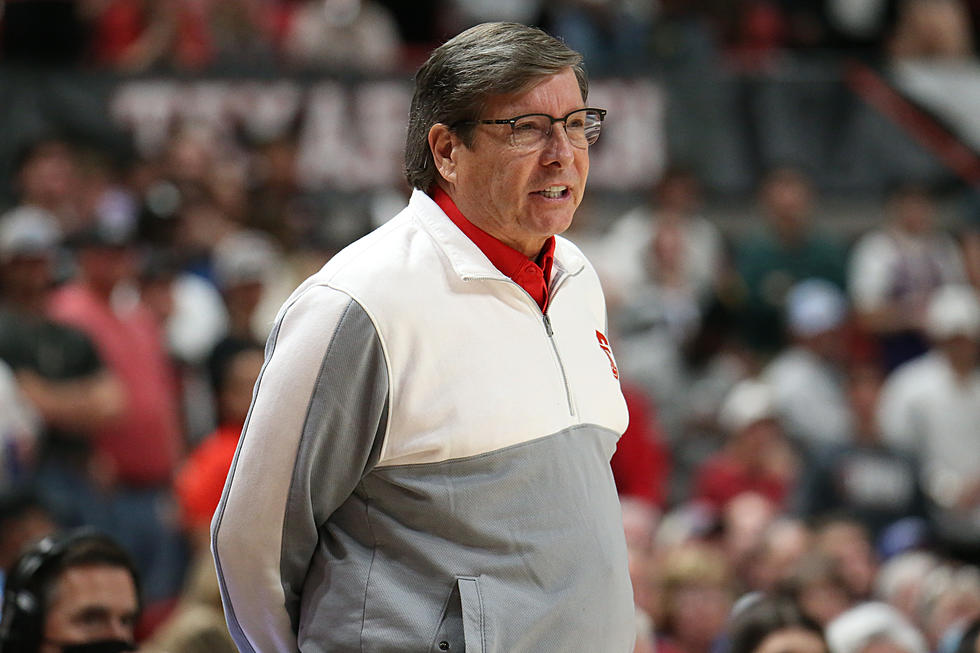 The Mark Adams Era Started in Lubbock Long Before This Season
Paul Roberts, KKAM.com
Texas Tech Men's Basketball had an eventful week, to say the least.
Mark Adams and company took seven players to Ames, Iowa to play a top 10 team in the Iowa State Cyclones and nearly left with a win. Then, still short-handed without their top two scorers, the Red Raiders beat Kansas in Lubbock on Saturday afternoon.
Not only did they beat Kansas, it really wasn't even that close and felt like Texas Tech had control of the game the entire way through. The box score final was 75-67, and there were some really impressive performances by individuals to get there.
Clarence Nadolny almost doubled his career-high in points with 17 (his previous career-high of nine points was set Wednesday in Ames). Bryson Williams added 22 points after struggling the better part of a month heading into the game.
Both of those players tell a story of Mark Adams. Nadolny could have transferred out after riding the end of the bench for two seasons. He could have followed Chris Beard to Austin. He could have done anything other than stay at Texas Tech with Mark Adams, but he stayed true to the course and he's shined with the opportunities he's been given.
Williams' story is close to the opposite of Nadolny's. Williams' coach joined Beard in Austin. The same coach Williams committed to at Fresno State and followed to UTEP. Williams could have followed coach Rodney Terry to Austin, but instead, he bought into Mark Adams and came to Lubbock.
Bought in. That's a phrase used a lot in college sports. You have to buy into the culture of a program. You have to be able to realize your role and own it. Brandone Francis had to buy into the idea of being the 6th man. Norense Odiase had to buy into the role of enforcer that started the game, but didn't play starter's minutes.
When the culture is great, the players buy in.
In Chris Beard's final two seasons at Texas Tech, the buy-in wasn't nearly as strong, with players like Jah'mius Ramsey and Mac McClung not fully buying into the culture of the team. Both were great Red Raiders and scored in bunches, but the culture of the team has never been the motion offense. It's always been committing to the defensive end of the floor.
You know, Mark Adams' defense. That's been Texas Tech's identity for five years.
Now, I want to preface the rest of the article before I get into it. I liked Chris Beard. In fact, I still like Chris Beard. He's really good at what he does. I personally think he's a bad fit at Texas, but that doesn't change the facts. Beard is an exceptional recruiter and a brilliant marketer. He'd be a great politician. I'm being earnest here and not trying to knock the guy.
But if you listened to Beard, he told you throughout his entire tenure that Mark Adams was the architect and that he was the guy on the megaphone shouting, "Look how great this building is."
I think a lot of Texas Tech fans genuinely see that Adams was always the puppeteer behind Beard's basketball success in Lubbock. Why else would all the former players immediately endorse Adams as Beard's replacement last April? The Texas Tech fans listened when Beard spoke, which is something the national media could learn from.
After Texas Tech lost to Iowa State and only mustered 47 points while holding Iowa State to their second-lowest point total of the season and well below their season average, Jon Rothstein of CBS sports backhandedly said, "Welcome to the Big 12, Mark Adams." That happened right after the lead CBS anchor on the broadcast opened the segment by calling Texas Tech "the ghost of Chris Beard."
Again, it's Mark Adams' defense. Always has been.
Fast forward a few days and another CBS talking head tried to compliment Texas Tech and Mark Adams by saying that the coach had done an amazing job "maintaining Chris Beard's culture." Another guy not listening to Chris Beard when he told everyone for five years that Mark Adams was the culture guy.
Let's go back to the idea of buying into the culture. Somebody has to set the tone, right? Generally, it's the head coach, but I'll argue that Beard bought into Adams' culture, which set the tone for Texas Tech's success in Beard's tenure.
I went back and started reading about what people said about Adams during the Beard Era and found this piece from The Athletic that was published the weekend that Texas Tech played Michigan State in the Final Four.
You can go back and read the entire piece at the link above, but here's the best part:
"Quite honestly, back a couple of summers ago, when we first started it (the no-middle defense), I felt at times it was kind of me taking on the entire staff," Adams says. "That's the one thing that's healthy about this culture here — we all question everything. Everything I do, I do for a reason. If there's a better way to do it, let's do it the other way. I kept saying, 'Look, this is what I believe in,' and I would try to justify that, and I'm strong-willed myself." He pauses and smiles again. "Hard-headed may be a better way to put it."
But Beard bought in and the philosophy especially took hold when the early results in 2017-18 were good.
"But Beard bought in."
The article goes on to call Adams, "the Lead Emphasiser" after quoting Adams as saying, "You are what you emphasize."
In some ways, I'm willing to say that Mark Adams was hired as the Red Raiders head coach back in 2016. Not that Beard was useless; I think the pairing of Adams and Beard was lightning in a bottle for a short time. It wasn't a long-term solution, though.
For as much praise as Beard heaped onto Mark Adams while the pair coached together, Adams was also a bit of a sideshow punchline to Beard at times. It's almost like Beard was trying to knock Adams down a peg or two nationally lest he get too powerful. Maybe that's just me reading into it after the fact, but that doesn't change the narrative that Chris Beard himself built while working with him.
Mark Adams is the architect of the defense, and defense drives the culture of Texas Tech basketball.
The Mark Adams Era started a long time ago.I'm glad everyone is catching up.
Texas Tech Basketball beats Kansas Jayhawks in Lubbock in front of Electric Crowd