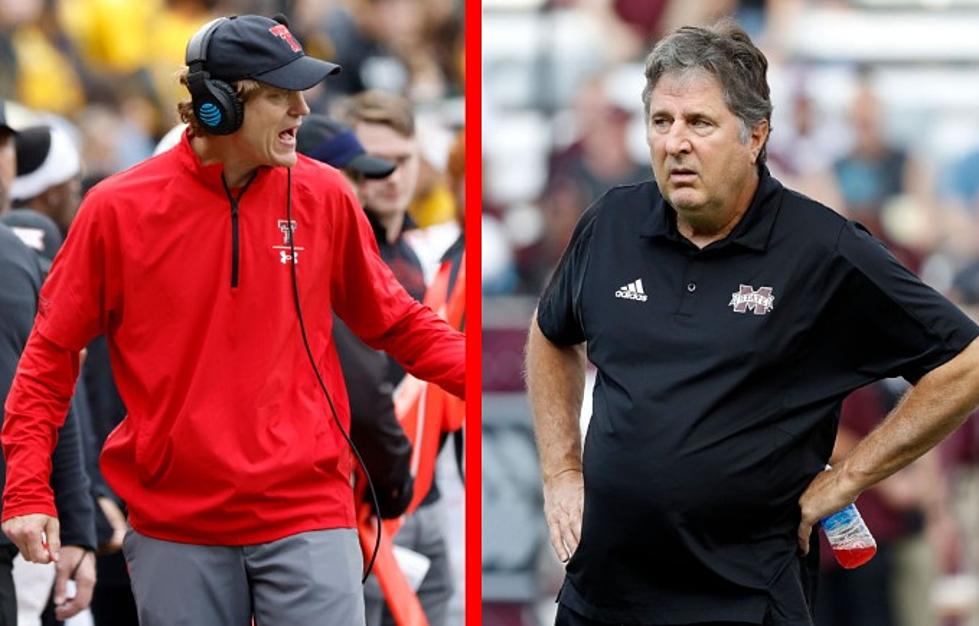 The Liberty Bowl Will Pit Texas Tech Against Former Coach Mike Leach
(L) Ron Jenkins, Getty Images / (R) Bob Levey, Getty Images
To some Texas Tech fans, this is a dream matchup. To others, a nightmare. Whichever side of that coin you fall on, it's definitely happening.
Texas Tech and Mississippi State will play in the Liberty Bowl on December 28th in Memphis, Tennessee.
First, the Liberty Bowl announced Texas Tech as a participant on Twitter:
The Mississippi State confirmation came a bit later:
The storylines are aplenty in this bowl game.
The most notable being that Mike Leach coached at Texas Tech and was fired, which created a decade-long feud between Leach, the State of Texas and the university. I don't think that Leach will be paid what he believes he's owed if the Bulldogs beat the Red Raiders, but that won't stop the talking points on Craig James and his buffoonery around that time.
Another storyline stemming from Leach is that this is the first time in a very long time, that a former player for a school takes over the program they played for and then coaches a former coach in their bowl appearance. This famously happened when Bear Bryant and Gene Stallings faced off during the 1968 Cotton Bowl.
Stallings played for Bryant at Texas A&M and took over the Aggies when Bryant went to Alabama. Texas A&M won the game 20-16 and Bryant carried his former player off the field.
After several decades, Stallings later coached Alabama, with a lot of success in the 90s.
Of course, Cumbie has accepted the head coaching job at Louisiana Tech, but he'll be coaching the Liberty Bowl game against his former head coach; Cumbie was Leach's QB back in 2004.
Regardless of the manufactured Leach vs Texas Tech storylines, the game should be pretty good. Mississippi State went 7-5 and 4-4 in the SEC with some really big wins and a couple of clunkers. The Red Raiders went 6-6 amidst a coaching change.
Who's Been Hired For McGuire's Staff and Who's Getting Hired Next