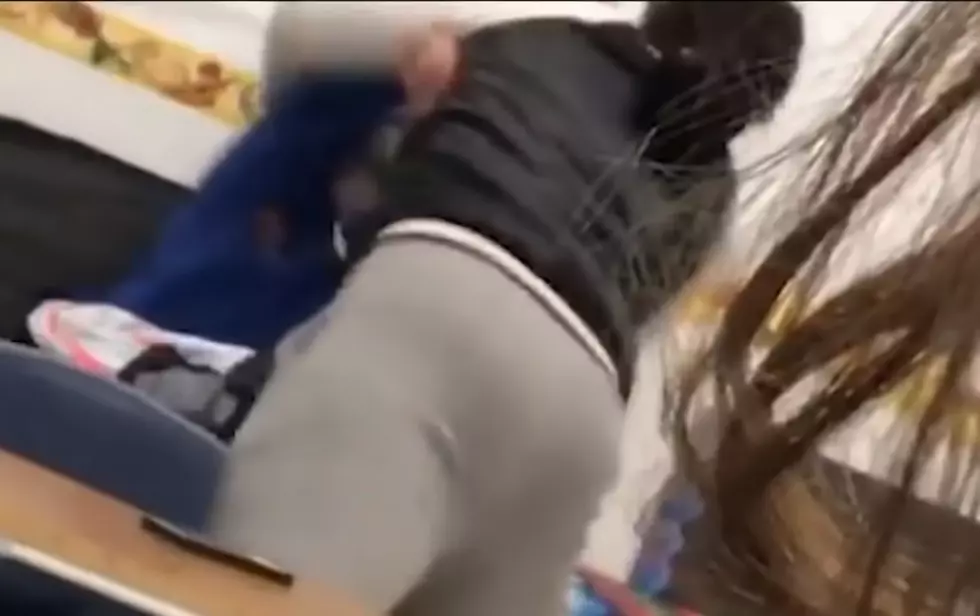 Texas Student Attacked by Teacher May Have Suffered Brain Injury
KVUE, YouTube
A video that made the rounds on social media this weekend shows a Lehman High School substitute teacher viciously attacking a student, and an attorney for that student's family says the girl is being treated for brain injuries.
KVUE-TV reports that the video emerged Friday, and shows 32-year-old Tiffani Lankford hitting a student several times before dragging her from her desk and stomping her head. According to their report, the girl has a history of epilepsy and is enrolled in a special needs curriculum.
Lankford has been charged with third-degree felony aggravated assault. KVUE reports that there is a domestic violence charge from 2004 on Lankdford's record. Hays ISD teachers are required to undergo a background check, and it's unclear if Lankford's previous charged was a factor in her hiring process.
A separate video that's also made the rounds online suggests that the student may have hit Lankford first. (That footage appears in the video report above.)
Whatever the case, Lehman High School Principal wrote in a statement posted to Facebook that "[u]nder no circumstance is that behavior tolerated at Lehman High School or in Hays CISD", and announced that Lankford was fired Friday and reported to the Texas Education Agency.
---
---
As reported by KXAN-TV,  an attorney for the student's family says the girl suffered a traumatic brain injury and is experiencing acute traumatic anxiety. The girl was scheduled to meet with medical specialists Monday.
Lankford has bonded out of jail.
The story caught the attention of Texas Governor Greg Abbott, who wrote in a tweet, "Conduct like this won't be tolerated in Texas classrooms. The substitute teacher who committed this heinous act has been arrested & will face serious legal consequences. The school district will be investigated by the Texas Education Agency."
---
---
Personally, I think the teacher was beyond out of line. I understand that being an educator is a tough job, especially when dealing with students who lash out. However, you've got to maintain your cool and be the adult in the situation, both for your sake and the sake of all your students. You've got a set a positive example. Unless it's an extreme situation and you're acting in self-defense, there's no excuse. This didn't look extreme to me. The teacher could have walked away after being hit and brought in a principal or security. That's just my opinion, though.
What do you think? Let us know in the comments.