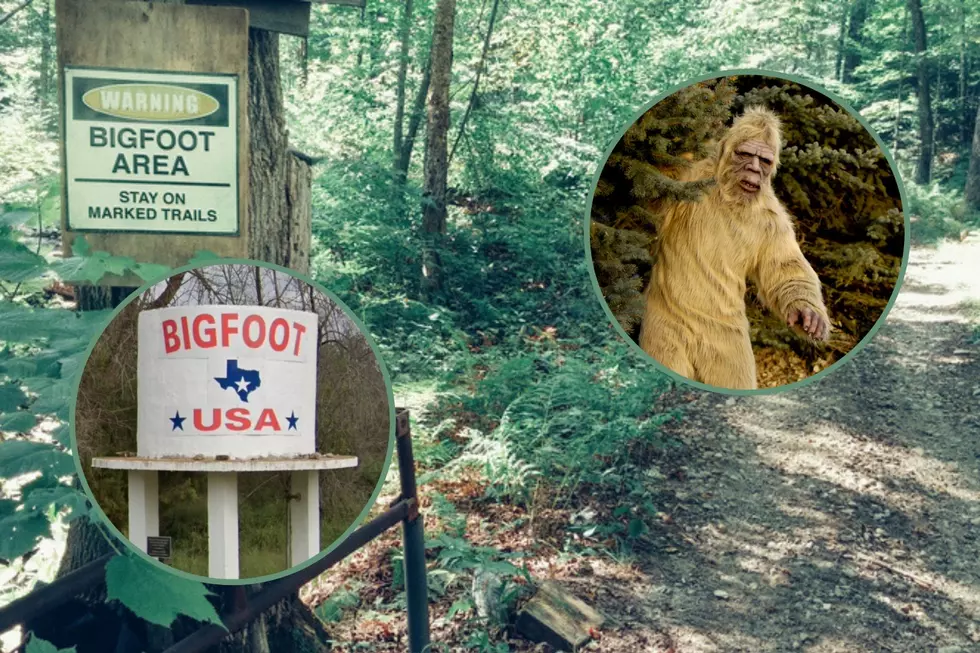 Texas and Bigfoot Have a Really Interesting History Together
Chris Rogers/KatieDobies
Bigfoot, Yeti, Sasquatch, whatever you call it, we all know about this mysterious creature and some believe they've actually seen it.
As a matter of fact, Texas is quite the hotbed for Bigfoot sightings. Heck, even Davy Crockett spoke of an encounter with this massive, hairy creature. According to TexasHillCountry.com, Crockett encountered this beast in what is now known as Davy Crockett National Forest in East Texas.
Not only did Crockett see Bigfoot, but according to lore, it spoke to him as well as it warned him to leave Texas. Crockett chronicled the details of the strange encounter in a letter to his brother-in-law Abner Burgin. You can read the letter here.
Until I read Crockett's story about Bigfoot, I honestly thought Darryl (the Jack Link's Sasquatch) was the only Yeti that could talk.
Crockett's days, apparently, aren't as far back as Bigfoot goes. There are petroglyphs in California depicting a Bigfoot-type creature and those glyphs are estimated to be between 500-1000 years old.
While most Bigfoot sightings have occurred in the Pacific Northwest, Texas has accounted for well over 800 sightings, mostly in East Texas. The city of Jefferson, in East Texas, is actually the Bigfoot Capital of Texas and often has Bigfoot hunts.
My guess is their Bigfoot hunts are of the same caliber as snipe hunting.
Jefferson just might be the Bigfoot Capital of Texas, but they'll never be Bigfoot, Texas as there's already a town with that name near San Antonio. Bigfoot, Texas, though, was not named after the urban legend, but rather a settler with the nickname "Bigfoot".
There have been minimal Bigfoot sightings in our area of the state, but you can see a county-by-county breakdown of sightings here.
While you're out hunting Bigfoot, make it a point to visit some of these beautiful waterfalls here in Texas.
10 Breathtaking Waterfalls in Texas
Did you know that Texas has quite a few waterfalls? Yep, we have more than just oil, horses, cows, and cactus.