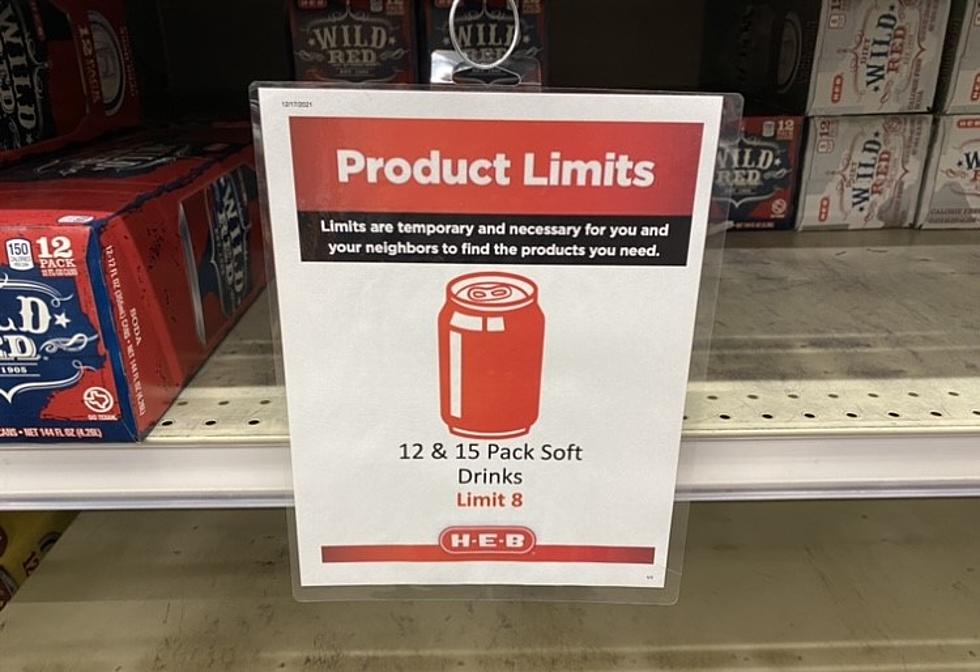 Lubbock Grocery Store Lifts Limit on How Many Soft Drinks You Can Purchase
Emily Claire, Townsquare Media Lubbock
You guys know I'm a United Supermarkets girl, but because I happened to be dog sitting in south Lubbock this past weekend, I made a rare stop at H-E-B. When I was there, I went to the soda aisle to grab a couple of 2-liter bottles and noticed a sign by the canned drinks.
The sign read, "Limits are temporary and necessary for you and your neighbors to find the products you need." The limit was specifically for 12 and 15-pack soft drinks, with a limit of eight packs per customer. Right around the sign, the shelves were looking pretty empty, too. They were almost completely out of the H-E-B brand Root Beer and Dr. B, and some of their other sodas looked sparse as well.
With all the shortages going on in Lubbock right now, I wasn't surprised by it. The COVID-19 pandemic has taken a toll on many suppliers, leading to delayed deliveries and a limited supply of certain products. I wouldn't be surprised if H-E-B's supplier had a delay in production or delivery, so they had to put the limit in place to maintain their current stock for a bit longer.
It's been five days since I saw the sign in the store and I was wondering if it would be a long-term issue, so I decided to call and see if the limit was still in place. The associate at H-E-B was very helpful and informed me that the soft drink limit was no longer in place. Knowing that they were no longer impacted by their shortage, I called around to a few other grocery stores in town as well. Associates at United Supermarkets and Market Street were extremely helpful and let me know that they didn't have a limit on soft drinks, while Walmart left me hanging with an unanswered call.
It looks like whatever supply chain issue led H-E-B to limit how many soft drinks customers could purchase is no longer an issue, but I'd definitely keep an eye out for any other supply issues that might pop up around town. I would also use this soft drink incident as a reminder not to panic if you see empty shelves. Just give it a week or so, and it will most likely sort itself out.
Texas Companies, From A to Z
From entertainment to communications, from food to infrastructure and beyond, Texas is a business leader whose products and services reach throughout the world.
10 Things You Learn When You Move to Texas
Here are 10 things you will learn about Texas if you move here from another state.