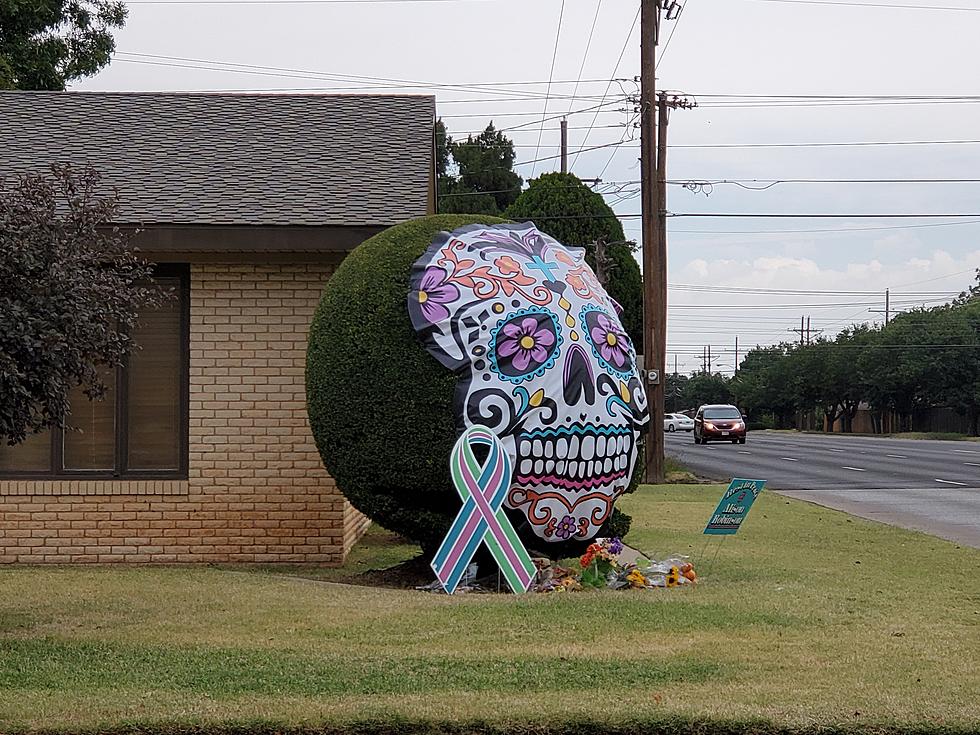 Lubbock's Famed Smiling Bush Gets a Sugary Holiday Makeover
Lance Ballance, Townsquare Media
Motorists on Indiana Avenue passing by Lubbock's legendary Smiling Bush have noticed another holiday-appropriate makeover, which has taken on an even more meaning after the passing of the home's owner this past month.
After the passing of Alison Robinson on September 22nd, 2021, neighbor Tracy Moreno, who's worked tirelessly to keep the tradition of the Smiling Bush alive, honored her memory by incorporating her love of sugar skulls into a beautiful tribute that's perfectly apropos for the upcoming Halloween season.
From Tracy's Facebook page:
Tribute to Alison Robinson for her love and kindness and fight against cancer. Alison you will be deeply missed but never forgotten. Alison loved sugar skulls and this is what I had to do for her and her family. Very special thanks to Andrus Brothers Roofing for sponsoring this project and Signs On the Go for the great job on artwork, you guys rock!

Happy Halloween 2021
---
The outpouring of love and support, not only for Robinson and her family, but for Moreno's efforts has been exactly what one would expect from the Lubbock community.
While some have pondered publicly about the future of this Lubbock fixture, including yours truly, it's reassuring that the family has expressed that Alison's home will remain in the family, and that the Smiling Bush will continue to be a part of the Lubbock landscape for many years to come.
If you wish to contribute to help defray expenses for Alison's family, as well as upkeep of Bushy McBushface, you can do so here.
The Smiling Bush of Lubbock's 10 Best Looks
Lubbock's Smiling Bush As Michelangelo From 'Teenage Mutant Ninja Turtles'
Smiling Bush Turns Into the Masked Rider
8 of the Most Lubbock Things You Can Do
These are the most extremely Lubbock things to do.
10 Things You Learn When You Move to Texas
Here are 10 things you will learn about Texas if you move here from another state.
The 25 Best Suburbs in Texas to Raise a Family
These are the 25 best suburbs to raise a family in Texas ranked by
Niche.com
.