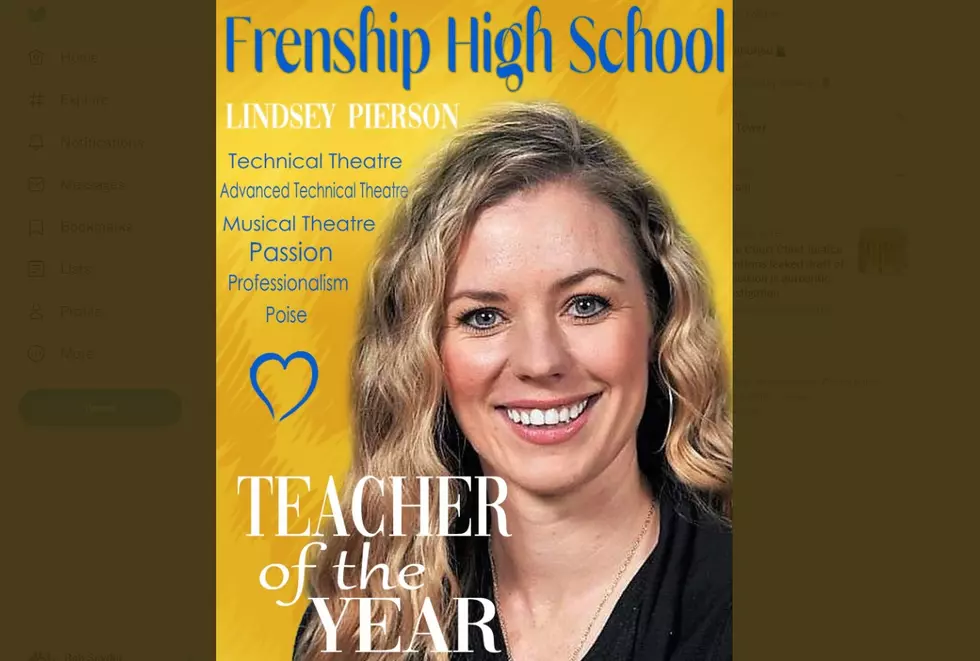 Frenship ISD Announces 2022 Teachers of the Year
Lindsey Pierson- FHS '22 Teacher of the Year (Frenship ISD)
Tuesday, May 3 is 'National Teachers Day', also known as Teacher Appreciation Day.
On Tuesday, Frenship ISD's campuses all announced their own Teacher of the Year awards, as a part of National Teachers Day.
Headlining Tuesday's announcement from Frenship ISD was Frenship High School's Teacher of the Year: Lindsey Pierson. Ms. Pierson teaches theater classes at FHS.
The Frenship High School 9th Grade Center also named a Teacher of the Year for 2021-2022: Coach Caleb Loper. Coach Loper teaches Algebra and is also a Basketball & Track coach for FHS.
Frenship ISD's numerous elementary and middle school campuses also named Teachers of the Year, and those honored educators are shown below.
Frenship ISD continues to expand. The district is currently in the process of building new campuses, including the district's second high school. The district currently has more than 10,800 students and 1,200 staff members. The first FHS class graduated in 1936.
Congratulations to all of Frenship ISD's Teachers of the Year from KFYO & Townsquare Media!
5 Lubbock Homes with Pools That are For Sale
These are five Lubbock homes that have pool and are for sale in Lubbock.
See Inside This Off Grid Estate In Austin, Texas
This place really does have it all.
Look at How Amarillo's Old Route 66 Motels Looked Then & Now
The heyday of the Mother Road may be long gone, but would you believe that there's still plenty of the old motels where many a weary American family rested their heads during their interstate travels?
You won't believe some of these are still standing, much less still alive and (wait for it..) kickin'!