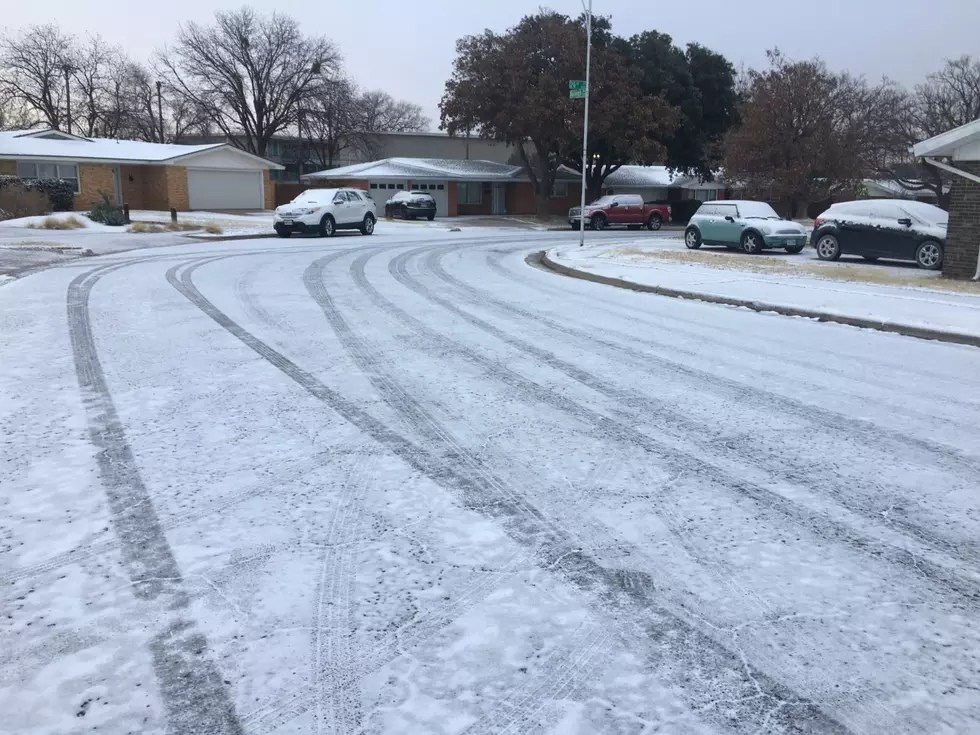 Feb. 1 Lubbock Area Delays and Cancelations From Expected Freeze
Amber Nichols, 2020
For the third day in a row some Lubbock area schools, businesses, and government agencies have delayed or canceled for the day.
Abernathy ISD: Closed
Andrews ISD: 10 a.m. start
All Saints Episcopal School: Closed
Belle's & Beau's Childcare Center: Closed
Bright Horizons Preschool: Closed
Brownfield ISD: Closed
Calvary Baptist Church Preschool, Kindergarten, PDO: Closed
Children's Orchard Academy: Closed
Children's World: Closed
Christ the King Diocesan School & Early Childhood Development Center: Closed
Creative Learning Center: Closed
Crosbyton CISD: Closed
Dawson ISD: Closed
DBS Kids: Closed
Denver City ISD: Closed
Early Learning Center of Lubbock: Closed
Elite Learning Academy I & II: Closed
Frenship ISD: Closed
Harmony Science Academy Lubbock: Closed
High Point Village: Closed
Hope Lutheran School: Closed
Idalou ISD: Closed
Kids are Cool: Closed
Kingdom Prep Academy: Closed
Lamesa ISD: Closed
Laugh N' Learn Children's Academy: Closed
Learning Tree Children's Academy: Closed
Little Wings School: Closed
Loop ISD: Closed
Lubbock Adult Day Center: Closed
Lubbock Autism Academy: Closed
Lubbock Christian School: Closed
Lubbock Christian University: Closed
Lubbock ISD: Closed
Lubbock-Cooper ISD: Closed
Meadow ISD: Closed
My Little Playhouse Lubbock: Closed
My Little Playhouse Brownfield: Closed
New Deal ISD: Closed
New World Christian Learning Center: Closed
O'Donnell ISD: Closed
Oakwood Preschool: Closed
Premier High School: Closed
Ralls ISD: 10 a.m. start
Richard Milburn Academy: 2 hour delay; Wednesday PM normal
Rise Academy: Closed
Roosevelt ISD: Closed
Ropes ISD: 10 a.m. start
Seagraves ISD: Closed
Shallowater ISD: Closed
Sharp Academy: Closed
Shelby and Friends Childcare Center: Closed
Slaton ISD: 10 a.m. start
Snyder ISD: Closed
Southcrest Christian School: Closed
Southland ISD: Closed
Saint Luke's Preschool: Closed
Tas Montessori School: Closed
Texas Tech University: 10 a.m. start
Tree House Children's Academy: Closed
Trinity Christian School: At home virtual learning
Triumph Public High Schools Lubbock: Closed
Wayland Baptist University Lubbock: Closed
WeeCare Learning Center: Closed
Westminster Presbyterian School: Closed
YWCA of Lubbock: Closed
Non-school delays and closings can be found below to avoid any confusion.
Alliance Church: No community meal or Wednesday small groups
Community Health Center of Lubbock Clinics: Closed
Kidz Kare Inc: 8:30 a.m. open
Lubbock Central Appraisal District: On Time
Texas Tech University Health Sciences Center: Closed
The featured list of cancelations and delays will be updated periodically as that information becomes available.
Top Ten Laundry Hacks That Will Have You Tumbling With Joy
We have loads of tips to help elevate your laundry game! Not only will your clothes last longer, but you could even save some money in the process!
Top 10 Foods to Not Bring to the Next Big Game Party
Top 10 Foods to Not Bring to the Next Big Game Party
Top 10 Mexican-American Foods to Try This Winter