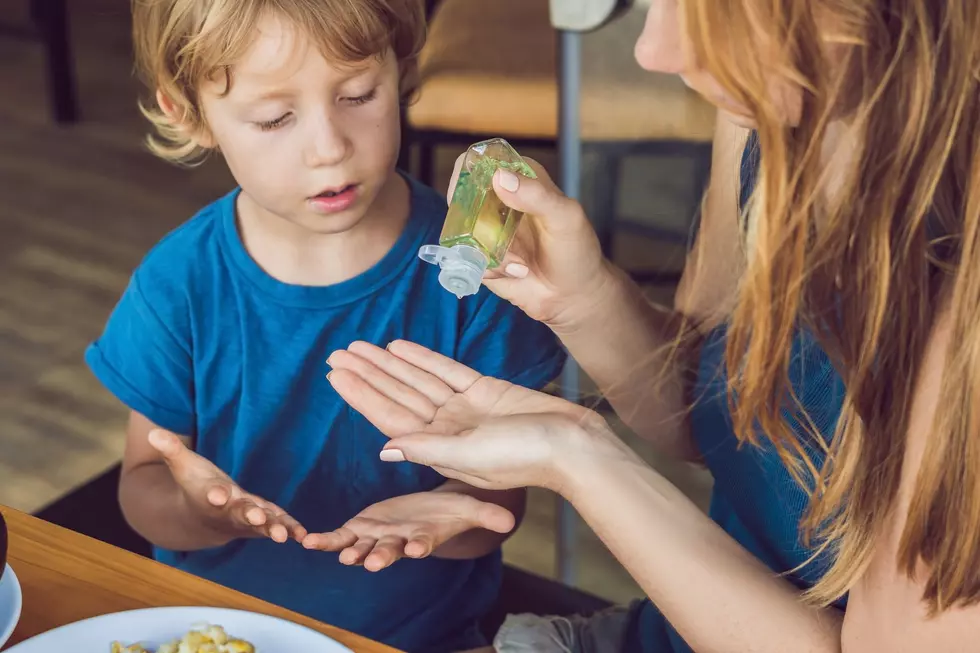 FDA Names Startling Amount of 'Potentially Toxic' Hand Sanitizers
galitskaya
First, there were nine hand sanitizers named by the FDA as "potentially toxic," then that number went up to 16.
Now, a staggering 59 have been named.
In June, the FDA released the name of 2 hand sanitizer manufacturers who made 9 products that were found to contain methanol instead of ethanol. Methanol, also known as Carbinol, Methyl alcohol, or wood alcohol, can be toxic when absorbed through the skin or if ingested and should not be used in hand sanitizer according to the FDA.
Then at the beginning of July, the FDA expanded that list to 16 different manufacturers with various brands all using the potentially deadly methanol as an ingredient.
Now less than two weeks later, the list has grown to a jaw-dropping 59 hand sanitizer varieties that potentially contain methanol. The affected products have mostly been made in Mexico, according to USA Today.
Hand sanitizer sales have jumped since February when the novel coronavirus pandemic began to grip the United States. Common household brands like Purell and others have been harder and harder to come by, causing consumers to purchase brands they are unfamiliar with to keep themselves and their family's protected.
Unfortunately, the unknowns of these brands could cause you to bring in new dangers to your home. The CDC still advises that washing your hands frequently with soap and water for 20 seconds is the best way to clean your hands and protect yourself from COVID-19.
When purchasing hand sanitizer, make sure the products contain at least 60% alcohol.
The hand sanitizers added to the list of potentially toxic products were made by 4E Global, AAA Cosmetica, DDI Multinacional, Limpo Quimicos, Maquiladora Miniara, Mystic International, Soluciones Cosmeticas, Grupo Insoma, Liqesa Exportacion or Liq-E-S.A.'s Optimus Lubricants, and Yara Elena De La Garza Perez Nieto.
You can view the NDC numbers for each specific product at the FDA website.
4E Global's Blumen Clear Advanced Hand Sanitizer with 70% Alcohol
4E Global's Blumen Advanced Instant Hand Sanitizer Clear Ethyl Alcohol 70%
4E Global's BLUMEN Advanced Instant Hand Sanitizer Clear
4E Global's KLAR AND DANVER Instant Hand Sanitizer (labeled with Greenbrier International Inc.)
4E Global's MODESA Instant Hand Sanitizer Moisturizers and Vitamin E
4E Global's BLUMEN Advanced Hand Sanitizer
4E Global's BLUMEN Advanced Hand Sanitizer Aloe
4E Global's BLUMEN Advanced Instant Hand Sanitizer Lavender
4E Global's BLUMEN Clear LEAR Advanced Hand Sanitizer
4E Global's BLUEMEN Clear Advanced Hand Sanitizer
4E Global's The Honeykeeper Hand Sanitizer
4E Global's BLUMEN Advanced Hand Sanitizer Clear
4E Global's BLUMEN Clear Advanced Instant Hand Sanitizer
4E Global's BLUMEN Clear Advanced Instant Hand Sanitizer Aloe
4E Global's BLUMEN Clear Advanced Instant Hand Sanitizer Lavender
4E Global's BLUMEN Aloe Advanced Hand Sanitizer, with 70 Alcohol
4E Global's Blumen Advanced Hand Sanitizer Lavender, with 70% alcohol
4E Global's Blumen Advanced Hand Sanitizer Aloe, with 70% alcohol
4E Global's Blumen Antibacterial Fresh Citrus Hand Sanitizer
4E Global's Blumen Hand Sanitizer Fresh Citrus
4E Global's KLAR and DANVER INSTANT HAND SANTIZER
4E Global's Hello Kitty by Sanrio Hand Sanitizer
4E Global's Assured Instant Hand Sanitizer (Vitamin E and Aloe)
4E Global's Assured Instant Hand Sanitizer (Aloe and Moisturizers)
4E Global's Assured Instant Hand Sanitizer Vitamin E and Aloe
4E Global's Assured Instant Hand Sanitizer Aloe and Moisturizers
4E Global's BLUMEN Instant Hand Sanitizer Fragrance Free
4E Global's BLUMEN Instant Hand Sanitizer Aloe Vera
4E Global's Assured Aloe
AAA Cosmetica's bio aaa Advance Hand Sanitizer
AAA Cosmetica's LumiSkin Advance Hand Sanitizer 4 oz
AAA Cosmetica's LumiSkin Advance Hand Sanitizer 16 oz
AAA Cosmetica's QualitaMed Hand Sanitizer
DDI Multinacional's Earths Amenities Instant Unscented Hand Sanitizer with Aloe Vera Advanced
DDI Multinacional's Hand Sanitizer Agavespa Skincare
DDI Multinacional's Vidanos Easy Cleaning Rentals Hand Sanitizer Agavespa Skincare
Eskbiochem's All-Clean Hand Sanitizer
Eskbiochem's Esk Biochem Hand Sanitizer
Eskbiochem's Lavar 70 Gel Hand Sanitizer
Eskbiochem's The Good Gel Antibacterial Gel Hand Sanitizer
Eskbiochem's CleanCare NoGerm Advanced Hand Sanitizer 80% Alcohol
Eskbiochem's CleanCare NoGerm Advanced Hand Sanitizer 75% Alcohol
Eskbiochem's CleanCare NoGerm Advanced Hand Sanitizer 80% Alcohol
Eskbiochem's  Saniderm Advanced Hand Sanitizer
Grupo Insoma's Hand sanitizer Gel Unscented 70% Alcohol
Limpo Quimicos' Andy's Best
Limpo Quimicos' Andy's
Limpo Quimicos' Gelclor
Limpo Quimicos' NeoNatural
Limpo Quimicos' Plus Advanced
Liqesa Exportacion or Liq-E-S.A.'s Optimus Lubricants Instant Hand Sanitizer
Maquiladora Miniara's Shine and Clean Hand Sanitizer
Maquiladora Miniara's Selecto Hand Sanitizer
Mystic International's Mystic Shield Protection hand sanitizer
Soluciones Cosmeticas' Bersih Hand Sanitizer Gel Fragrance Free
Soluciones Cosmeticas' Antiseptic Alcohol 70% Topical Solution hand sanitizer
Soluciones Cosmeticas' Hand sanitizer (labeled with Wet Look Janitorial and Gardening Corp.)
Tropicosmeticos' Britz Hand Sanitizer Ethyl Alcohol 70%
Yara Elena De La Garza Perez Nieto's DAESI hand sanitizer
READ MORE: See how some companies are changing their businesses to combat COVID-19