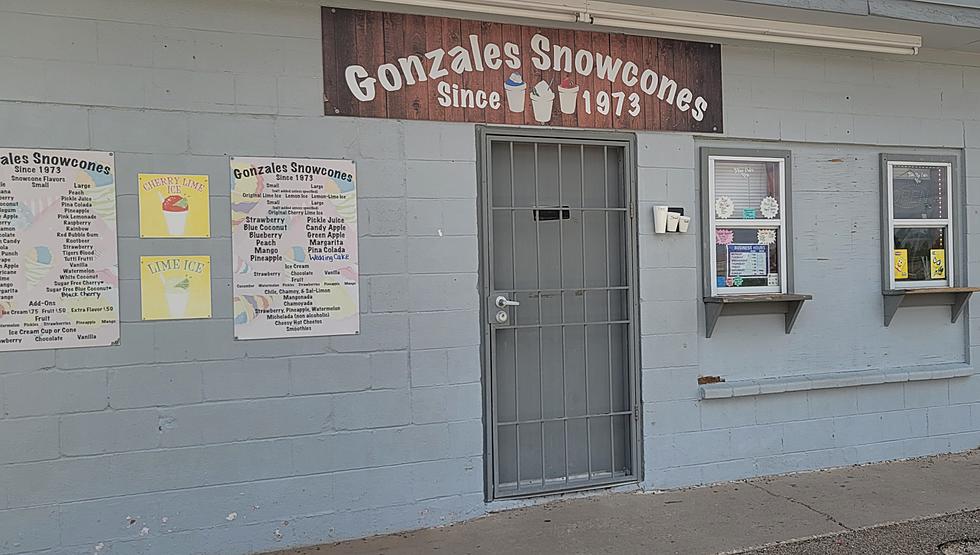 Enjoy Classic Snow Cones Served for 50 Years by One Texas Family
Mikael Donnovan, Townsquare Media
A small but tasty dessert place in Slaton and Lubbock has been serving up some classic snow cones for 50 years. Started back in 1973 Gonzales Snow Cones originated back in Slaton after Domingo Gonzales became disabled and still needed a way to support his wife, Socorro Gonzales, and their children. The idea of these snow cones has been a classic for 50 years with many people having fond memories of these special treats and now sharing them with their kids, and even grandkids.
You may be asking what's so important about these snow cones well Gonzales' snow cones are a different kind of frozen treats as they are more ice crystals/shards instead of shaved ice. I obviously had to try these to better understand the difference. I purchased a strawberry snow cone with ice cream and strawberries, known as a Delight, and was entirely taken aback by the flavors and complexity of these simple ingredients. The key is to let the ice cream melt a bit and trickle into the snow cone which is very difficult because of how tasty it looks. It also seems that these snow cones take way longer to melt than shaved ice along with the syrup being sweeter but a sweetness that dances on your taste buds perfectly.
The most popular things to order are the classic lime or cherry lime snow cones topped with strawberries, pineapples, and pickles. That's right, pickles! The original stand in Slaton did move locations years ago but Slaton still has a Gonzales Snow Cone which is operated by family of the Gonzales, the Perez family. Steve Escobar was brought into the family business by his wife Lupe and runs the Lubbock location while commuting everyday from Slaton showing how much dedication goes behind the business.
The family has had to go through some hardships over the years as Escobar let us know that his father-in-law who started the business passed away from cancer. Later the Lubbock location, Gonzales Snow Cones & Mobile, was broken into four separate times in just 2022 with some machines being stolen but Escobar states that didn't bring him, or the family, down and he just had to keep on going. The Slaton location also recently was broken into this year and stealing from a small locally owned business just means those thieves are stealing from the community and themselves along with lacking some self respect.
The Lubbock location is just North of Texas Tech and enjoys serving all those Tech students along with the entire community of Lubbock. More information about the Slaton and Lubbock locations can be found on their social media sites. Escobar does state that it's his dream to open a second location somewhere near Central Lubbock or even the South side of town so that those classic flavors and new memories can be made.
Refrigerated Produce:
How Long Does Produce Last
These Are Some of the Best Frozen Meals You Can Buy
Frozen meals are ideal to make when you don't feel like cooking...or you don't know how to cook. These are some of my favorites!