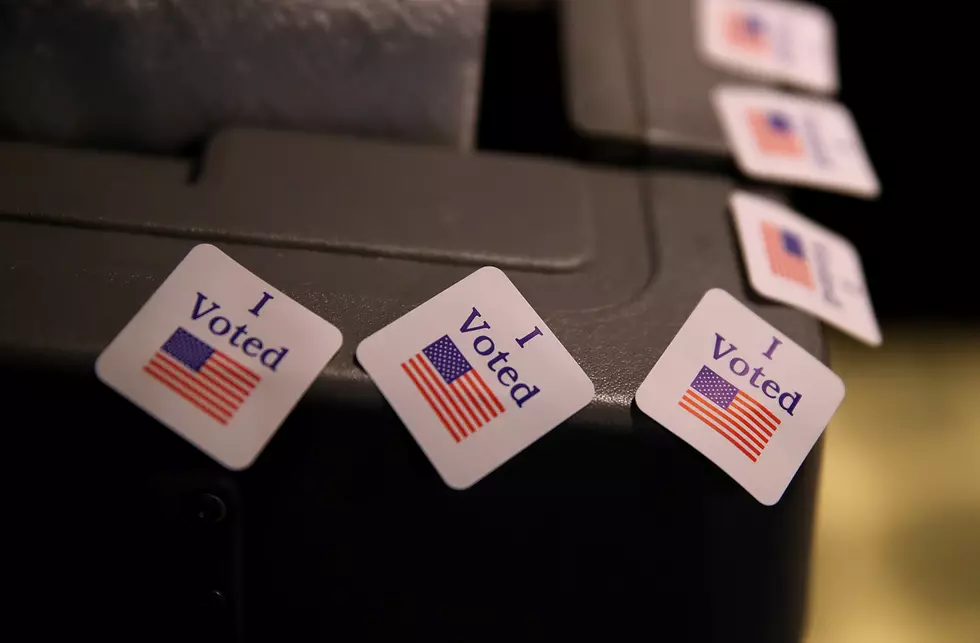 Early Voting Begins In Texas, Here's What You Need To Know
Getty Images
Early voting is now underway across the State of Texas. Millions of Texans will head to the polls over the next two weeks before the November 8th Election to cast their votes for the candidates they feel best represent them.
Early Voting in Texas will last until Friday, November 4th. Texans also have until October 28, to apply for a ballot by mail, however, the ballot must be received by October 28, not postmarked.
Voters statewide will be voting for Governor, Lieutenant Governor, Attorney General, Comptroller, Agricultural Commissioner, Land Commissioner, Railroad Commissioner, U.S. Representative, U.S. Supreme Court Justice, Place 3, 5,and 9, Judge for Court of Criminal Appeals Place 5 and 6.
But those aren't the only campaigns or issues on your ballot. Across the State of Texas, citizens will vote for State Representatives, County Judges, bond elections, and other local candidates and issues. For example, voters in the City of Lubbock will cast a vote FOR or AGAINST Proposition A. The $200 million dollar bond election for streets in Lubbock. The City of Lubbock previously attempted to pass a road bond, but it failed. The bond Lubbock voters will vote for this different. It includes more streets but doesn't include Broadway in package.
Voters in Lubbock County can view a sample ballot here.
Voters in Lubbock County can vote at most United Supermarkets during Early Voting. Other voting locations include Citizens Tower in Downtown Lubbock, Idalou Community Center, Shallowater Community Center, the Texas Tech Rec Center, and more. Get the full list of voting locations along with days and times the vote centers open and close at VoteLubbock.org.
Don't forget, you have to show an ID to vote. According to the State of Texas, the following are acceptable forms of ID.
Texas Driver License issued by the Texas Department of Public Safety (DPS)
Texas Election Identification Certificate issued by DPS
Texas Personal Identification Card issued by DPS
Texas Handgun License issued by DPS
United States Military Identification Card containing the person's photograph
United States Citizenship Certificate containing the person's photograph
United States Passport (book or card)

With the exception of the U.S. Citizenship Certificate, which does not expire, for voters aged 18-69, the acceptable form of photo identification may be expired no more than four years before being presented for voter qualification at the polling place. For voters aged 70 or older, the acceptable form of photo identification may be expired for any length of time if the identification is otherwise valid.
Election Identification Certificates are available from DPS driver license offices during regular business hours. Find mobile station locations here.

Here is a list of the supporting forms of ID that can be presented if the voter does not possess one of the forms of acceptable photo ID and cannot reasonably obtain one:

copy or original of a government document that shows the voter's name and an address, including the voter's voter registration certificate;
copy of or original current utility bill;
copy of or original bank statement;
copy of or original government check;
copy of or original paycheck; or
copy of or original of (a) a certified domestic (from a U.S. state or territory) birth certificate or (b) a document confirming birth admissible in a court of law which establishes the voter's identity (which may include a foreign birth document).

After presenting one of the forms of supporting ID listed above, the voter must execute a Reasonable Impediment Declaration.
KFYO will air Election Night coverage of the 2022 Midterm Elections on Tuesday, November 8 from 7 p.m. until 10 p.m.
Buddy Holly Fans can Stay at Peggy Sue's old House, now an Airbnb
A peak inside and outside the Peggy Sue House Airbnb
Top 6 Beautiful Paradise Islands In Texas You Must Visit
You don't have to hop on a plane or a cruise ship to find an island paradise this summer. Texas has some perfect getaways. Here are just a few.
Top 25 Delicious Foods & Drinks That Define The Great State of Texas!
There's more to Texas than just Dallas Cowboys and oil in fact, Texas has helped shape the taste of America. From BBQ, to Tex Mex to Ice Cream and beyond, Texas has introduced the rest of the U.S. to the Texas way of life through food. So what foods and drink make Texas so special? Let's take a look.