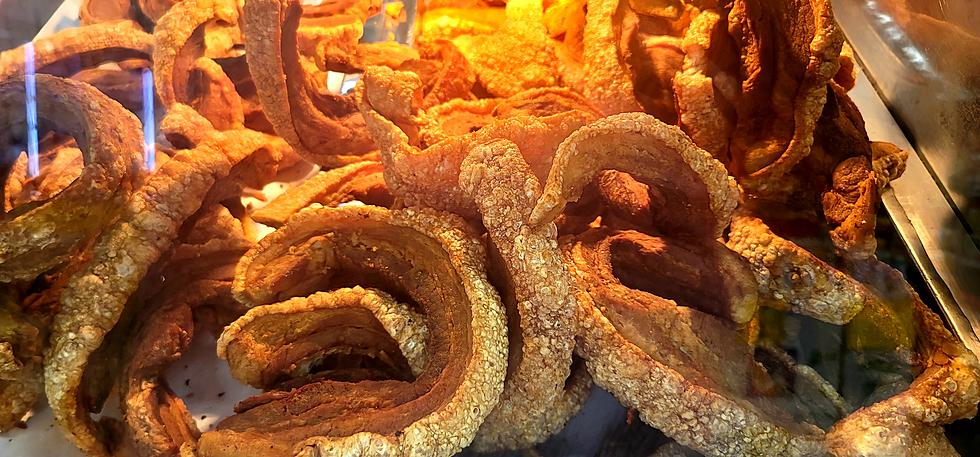 Could This Popular Mexican Snack Fulfill That Need for a Crunch?
chicharrones, Mikael Donnovan
So as we all know there are times we are just in need of a snack to get us through the day but it has to be something specific. Like for instance something sweet, savory, sour, soft, or even crunchy. For those lovers of crunchy who just need more crunchy snack ideas then why not try some chicharrones con carne.
Some of you might not know what that is, or how to even pronounce it, but they're pork skins (or rinds) with meat still on it to give you that perfect blend of chewy and crunchy. The snack, or meal for some, has been making the rounds on Tik Tok and can be seen in many videos being dipped into guacamole. The guacamole, or pico de gallo with avocado, adds just enough flavor and kick to the savory crunchy treat.
I could not write about this popular food without giving it a try so I ventured out to La Super Economica on Clovis Road, in North Lubbock, to see what all the hype was about. This was my first time trying the crunchy snack, I did grow up in a Hispanic household and we did slaughter our own food sometimes but I hadn't had the opportunity to try chicharrones with carne since. When I tell you that the sheer size of these bad boys could not be contained to just a screen but were humongous that all I could order was just one.
I did run out of time to get some guacamole so I ate it as is and loved the flavor and combination of crunchy, savory, tender and a bit salty. Don't take my word for it, try it out and tell us what you think in the comments. Let us know if you had it with guacamole or tried it plain like I did.
Top 10 Mexican-American Foods to Try This Winter
Which of Dr Pepper's 12 Flavors Portray Your Zodiac Sign The Best
WhataZodiac! Your Whatburger Order, According To Your Star Sign
The stars align for any order at Whataburger, but here is your best Whata-order, based on your star sign.