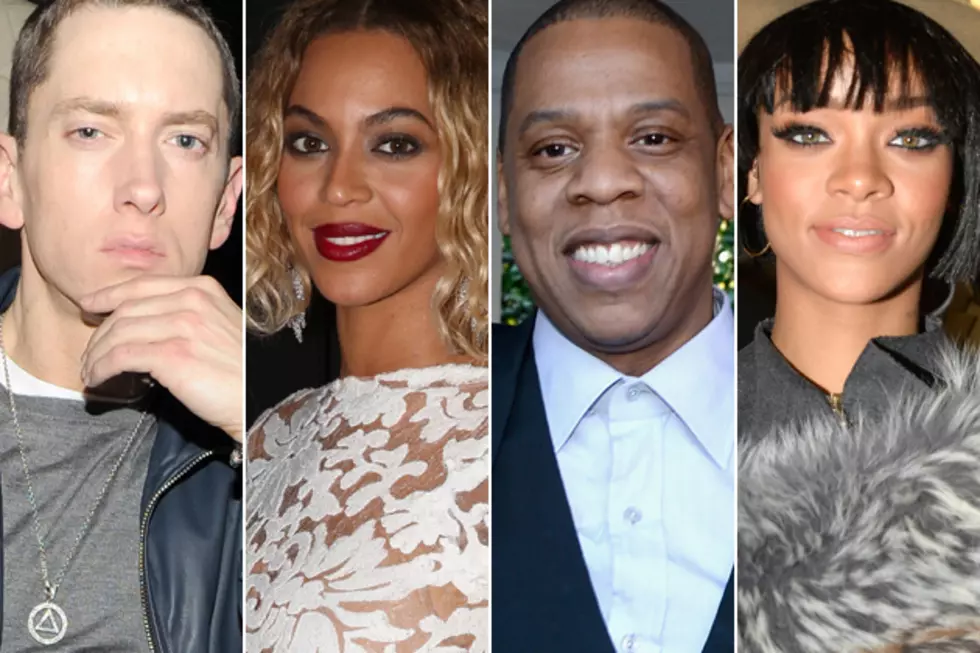 2014 Billboard Music Awards Nominees Include Eminem, Jay Z, Rihanna, Macklemore, Beyonce & More
Larry Busacca (2) / Christopher Polk / Pascal Le Segretain, Getty Images
Some of the biggest names in hip-hop and R&B are among the nominees for the 2014 Billboard Music Awards, announced today (April 9).
Eminem scores six in categories like Top Rap Artist and Top Rap Album while Jay Z earns five. Beyonce is highlighted as a Top R&B Artist and is included in seven categories compared to Rihanna with five. Seven is Macklemore's lucky number as he shows up in a number of categories including Top Rap Song.
Artists like Pharrell Williams, Drake, Justin Timberlake, Bruno Mars and Robin Thicke, among others, are also nominated.
The 2014 Billboard Music Awards will be broadcast live from the MGM Grand Garden Arena in Las Vegas on Sun., May 18, on ABC at 8PM
For the full list of nominees, visit Billboard. Check out some of the major categories below.
2014 Billboard Music Awards Finalists
Top R&B Artist
Beyonce
Pharrell
Rihanna
Robin Thicke
Justin Timberlake
Top Rap Artist
Drake
Eminem
Jay Z
Macklemore & Ryan Lewis
Pitbull
Top R&B Album
Beyonce – 'Beyonce'
R. Kelly – 'Black Panties'
Robin Thicke – 'Blurred Lines'
Justin Timberlake – 'The 20/20 Experience'
Justin Timberlake – 'The 20/20 Experience (2 of 2)'
Top Rap Album
J. Cole – 'Born Sinner'
Drake – 'Nothing Was the Same'
Eminem – 'The Marshall Mathers LP 2'
Jay Z – 'Magna Carta…Holy Grail'
Macklemore & Ryan Lewis – 'The Heist'
Top R&B Song
Beyonce feat. Jay Z – 'Drunk In Love'
Drake feat. Majid Jordan – 'Hold On, We're Going Home'
Pharrell – 'Happy'
Robin Thicke feat. T.I. & Pharrell – 'Blurred Lines'
Justin Timberlake feat. Jay Z – 'Suit & Tie'
Top Rap Song
Eminem feat. Rihanna – 'The Monster'
Jay Z feat. Justin Timberlake – 'Holy Grail'
Macklemore & Ryan Lewis feat. Ray Dalton – 'Can't Hold Us'
Macklemore & Ryan Lewis feat. Wanz – 'Thrift Shop'
Pitbull feat. Ke$ha – 'Timber'
Top Digital Song
Imagine Dragons – 'Radioactive'
Lorde – 'Royals'
OneRepublic – 'Counting Stars'
Katy Perry – 'Roar'
Robin Thicke feat. T.I. & Pharrell – 'Blurred Lines'
Top Radio Song
Avicii – 'Wake Me Up!'
Lorde – 'Royals'
Katy Perry – 'Roar'
Robin Thicke feat. T.I. & Pharrell – 'Blurred Lines'
Justin Timberlake – 'Mirrors'
Top Streaming Song (Audio)
Daft Punk feat. Pharrell Williams – 'Get Lucky'
Imagine Dragons – 'Radioactive'
Lorde – 'Royals'
Macklemore & Ryan Lewis feat. Ray Dalton – 'Can't Hold Us'
Robin Thicke feat. T.I. & Pharrell – 'Blurred Lines'
Top Streaming Song (Video)
Baauer – 'Harlem Shake'
Miley Cyrus – 'We Can't Stop'
Miley Cyrus – 'Wrecking Ball'
Macklemore & Ryan Lewis feat. Wanz – 'Thrift Shop'
Katy Perry – 'Roar'
Top Artist
Miley Cyrus
Imagine Dragons
Bruno Mars
Katy Perry
Justin Timberlake
Top Hot 100 Song
Miley Cyrus – 'Wrecking Ball'
Imagine Dragons – 'Radioactive'
Lorde – 'Royals'
Katy Perry – 'Roar'
Robin Thicke feat. T.I. & Pharrell – 'Blurred Lines'
Top Billboard 200 Album
Beyonce – 'Beyonce'
Luke Bryan – 'Crash My Party'
Drake – 'Nothing Was the Same'
Eminem – 'The Marshall Mathers LP 2'
Justin Timberlake – 'The 20/20 Experience'
Top Duo/Group
Florida Georgia Line
Imagine Dragons
Macklemore & Ryan Lewis
One Direction
OneRepublic
Top New Artist
Bastille
Capital Cities
Ariana Grande
Lorde
Passenger
Top Touring Artist
Beyonce
Bon Jovi
P!nk
Rihanna
Bruce Springsteen & the E Street Band
Top Male Artist
Luke Bryan
Drake
Eminem
Bruno Mars
Justin Timberlake
Top Female Artist
Beyonce
Miley Cyrus
Lorde
Katy Perry
Rihanna
Top Hot 100 Artist
Miley Cyrus
Imagine Dragons
Lorde
Katy Perry
Justin Timberlake
Top Billboard 200 Artist
Beyonce
Luke Bryan
Eminem
One Direction
Justin Timberlake
Top Digital Songs Artist
Miley Cyrus
Imagine Dragons
Lorde
Macklemore & Ryan Lewis
Katy Perry
Top Radio Songs Artist
Imagine Dragons
Lorde
Bruno Mars
Katy Perry
Justin Timberlake
Top Social Artist
Justin Bieber
Miley Cyrus
One Direction
Rihanna
Taylor Swift
Top Streaming Artist
Miley Cyrus
Imagine Dragons
Macklemore & Ryan Lewis
Katy Perry
PSY