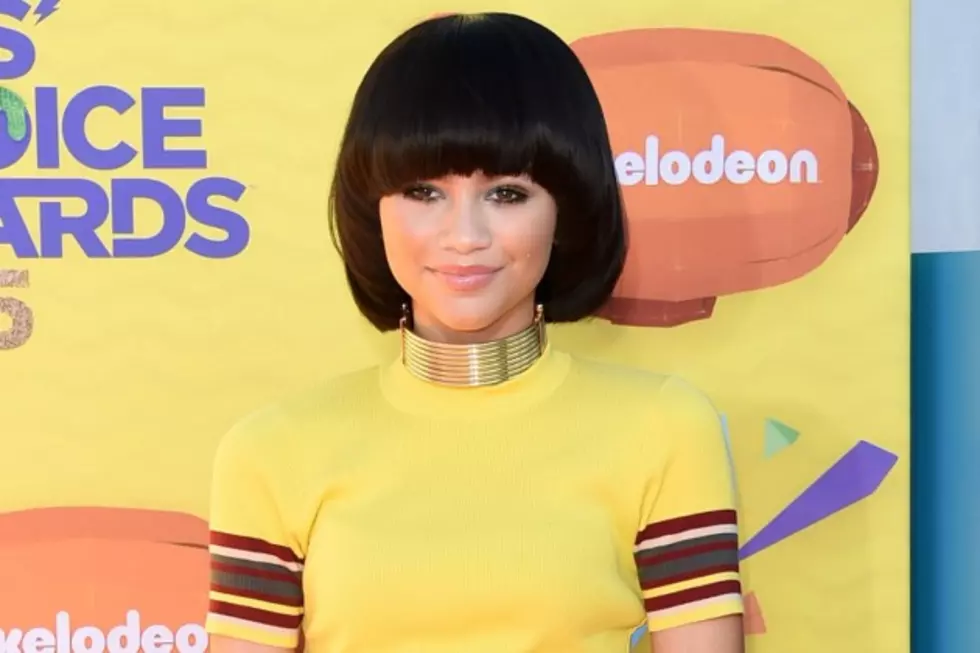 Zendaya Addresses Criticism of Her 'Dora the Explorer' Hair at 2015 Nickelodeon Kids' Choice Awards [VIDEO]
Jason Merritt, Getty Images
Zendaya can't seem to catch a break when it comes to her hair. After wearing dreadlocks to the Oscars last month and being slammed for her look by E! Fashion Police host Giuilana Rancic, now fans are attacking her for the 'do she showcased at the Nickelodeon Kids' Choice Awards at the Forum in Inglewood, Calif. on Saturday (March 28).
Giving "Queen Cleopatra+Edna Mode+70's realness" as she put it on Instagram, Zendaya stepped onto the red carpet donning a chocolate brown bob. She was styled by Law Roach, who put together a DKNY skirt and top, Stuart Weitzman shoes, Preme collar and what he calls "Compton meets swap meet" bangles for her.
According to the singer, she isn't afraid to experiment with her wardrobe or her hair. "Have I ever been scared of a look?" she wrote in a caption of an Instagram photo of herself sitting in a black SUV flaunting her Kids' Choice Awards attire.
But not everyone was fond of her new hairstyle, with some fans on Twitter sharing their disappointment. "Zendaya bae so fine but I don't like her hair," one wrote. Another fan (or should we say hater) compared her look to a Latina cartoon character on Nick Jr. "IM SORRY BUT ZENDAYA LOOKS LIKE DORA THE EXPLORER," he wrote.
The "My Jam" songstress, who is very vocal when it comes to defending herself, created a video to address the criticism over her new look, which turned out to be a wig. "So many people get stressed out every time I wear a different hair style on the red carpet," the 18-year-old stated. "It is called a wig, people. Okay. W-I-G. Say it with me now, wig."
Zendaya likely used Snapchat to create the video because as she prompts viewers to "say it with me now," the letters "W I G" appear on the screen.
Take a look at what the critics have to say and watch Zendaya's hilarious video response below.
 See 20 Rappers' & Singers' Yearbook Photos You Won't Believe