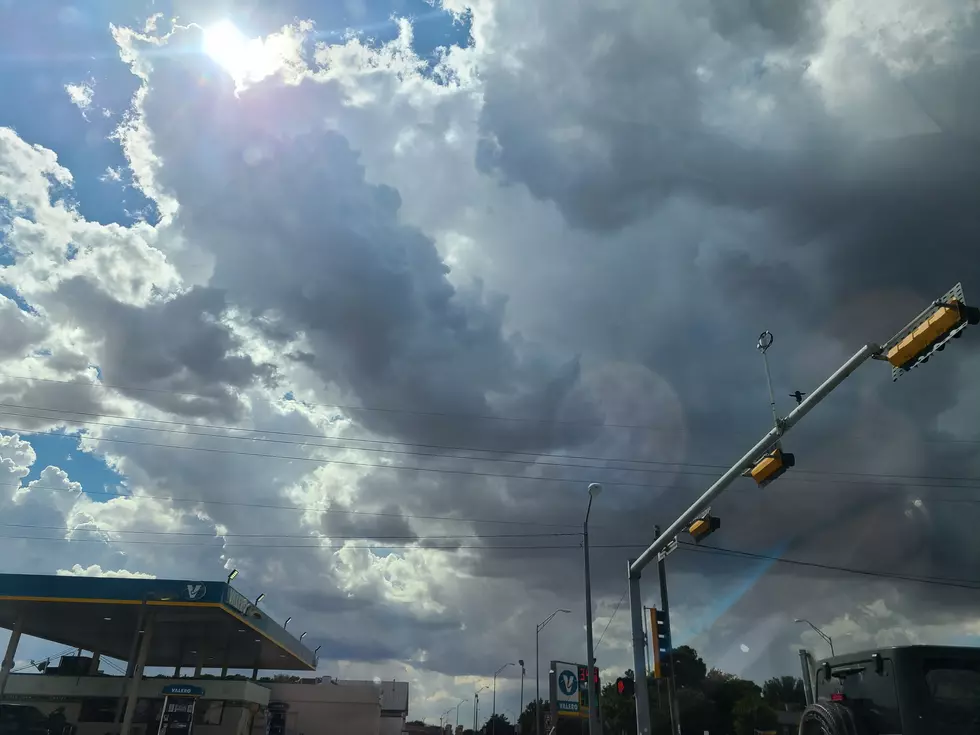 Why Do Texans Call a Sunshower 'The Devil's Beating His Wife'?
via Renee Raven
The weather on Sunday was scary and magnificent. I happened to be in a metal-roofed building when the thunder began, and a very primal part of me was shaken, but also full of awe. I made my purchase in time to see that it was pouring all over the store I was at, but across the street it wasn't raining.
Sunshowers are rare, but more common in West Texas than other locales. They're an amazing opportunity to see the sunshine while getting soaked in rain and lightning strike across a blue sky. Driving home, I oscillated between maximizing the speed of my wipers and praying I could see, then turning them off completely so as not to ruin them on a dry windshield.
A friend of mine said "the devil was beating his wife with a walking stick." What? I love Texas idioms, but this phrase put a proverbial hitch in my get-along. I hadn't heard it before, but apparently it's a common, if somewhat troubling expression amongst Texans. But its roots go way, way back.
According to theidioms.com, this expression's first recorded use was in a French play in 1703, nearly 150 years before Texas was founded:
"to go and thrash him around the churchyard, as the devil does his wife in rainy weather when the sun shines."
Apparently, this French idiom is derived from a much older Greek myth:
 [...]inspired from Plutarch's poem in Eusebius' Praeparatio Evangelica where Zeus, angry with Hera, made her believe that he was marrying Daedale when in fact it was a wooden statue. Hera, jealous, provoked a heavy downpour on the wedding day but at the same time realised the trick. In order to redeem herself, she turned her cries into laughter, reconciled herself with Zeus and happily took the lead of the wedding party, instituting the festival of Daedala in memory of the event.
In fact, some version of this idiom has been used by cultures all over the world for a very, very long time. Sunshowers have been associated with trickster gods, figures, animals and unusual events since time immemorial.
Here's just a few of many examples that are listed on the Sunshower wiki:
In Nigeria, when it rains and the sun is shining at the same time, people say that a Lion is giving/has given birth.

In Catalonia it is said that the witches are combing their hair: "Les bruixes es pentinen"

In Cuba, "Se está casando la hija del diablo", i.e. "The Devil's daughter is getting married"

In Hawaii, it is known as "ghost rain" or "liquid sunshine".

In India, and Burma, those who speak the Tangkhul language, refer to sunshowers as the 'wedding of a spirit to a human'.
I think I like Hawaii's the most. 'Liquid sunshine' is a lovely way to describe it what happened to Lubbock.
Flooding In Lubbock, Texas
Lubbock Tornado Ruins Are Being Taken Down
San Antonio House for Sale Has Majestic Caverns
A large and lovely San Antonio home for sale has an unusual amenity- natural, assessable, and majestic caverns on the property