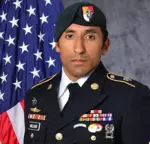 Two Navy SEALs Under Investigation After Lubbock Native Green Beret Found Dead
Logan J. Melgar
Two members of the Navy's elite SEAL Team Six are currently under investigation in relation to the death of a Green Beret.
On June 4th, Army Staff Sargent and Green Beret Logan J. Melgar, a Lubbock native and graduate of Frenship High School, was found dead in his room in an embassy out of Mali. U.S. officials confirm that two Navy SEALS are under investigation for Melgar's death and that it is being considered a possible homicide from asphyxiation.
Melgar was part of a small group of U.S. military personnel working in Bamako, Mali in support of the U.S. Embassy.
He enlisted in the Army in January of 2012 and started his Special Forces training in 2013.