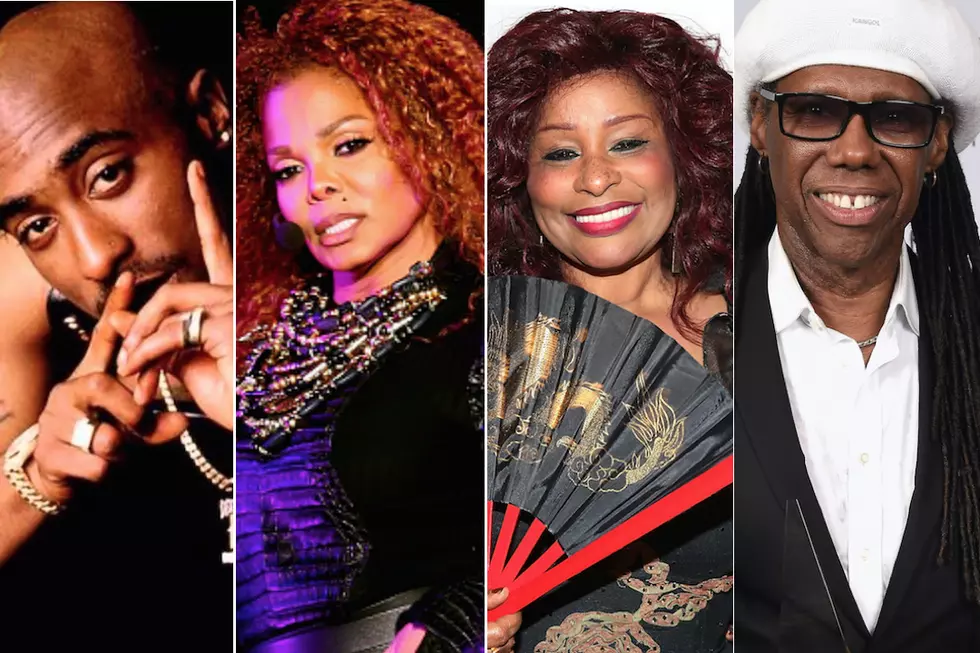 Tupac Shakur, Janet Jackson, Chaka Khan and Chic Among Rock & Roll Hall of Fame Nominees
Interscope / Francois Nel / Aaron Davidson / Gary Gershoff, Getty Images
Tupac Shakur has a shot at becoming the sixth hip-hop artist to be inducted into the Rock & Roll Hall Fame in April 2017. Other nominees for induction into the Rock Hall include R&B icons Janet Jackson and Chaka Khan as well as disco group Chic who returns to the ballot for the 11th time.
Other notable music acts up for enshrinement include electronic pioneers Kraftwerk, punk rockers Bad Brains and alternative rockers Pearl Jam, among many others. To be eligible for this year's ballot, each nominee's first single or album had to be released in 1991 or earlier.
Fans, alongside an international voting body of over 800 artists, historians and members of the music industry, have been invited to cast their votes on who should be inducted into the Rock Hall. From now until Dec. 6, folks can vote on who gets in at RollingStone.com.
Who do you think should be in the 2017 Rock & Roll Hall Fame? Tell us in the comments below.
2017 Rock & Roll Hall of Fame Nominees:
Bad Brains
Chaka Khan
Chic
Depeche Mode
Electric Light Orchestra
J. Geils Band
Jane's Addiction
Janet Jackson
Joan Baez
Joe Tex
Journey
Kraftwerk
MC5
Pearl Jam
Steppenwolf
The Cars
The Zombies
Tupac Shakur
YES