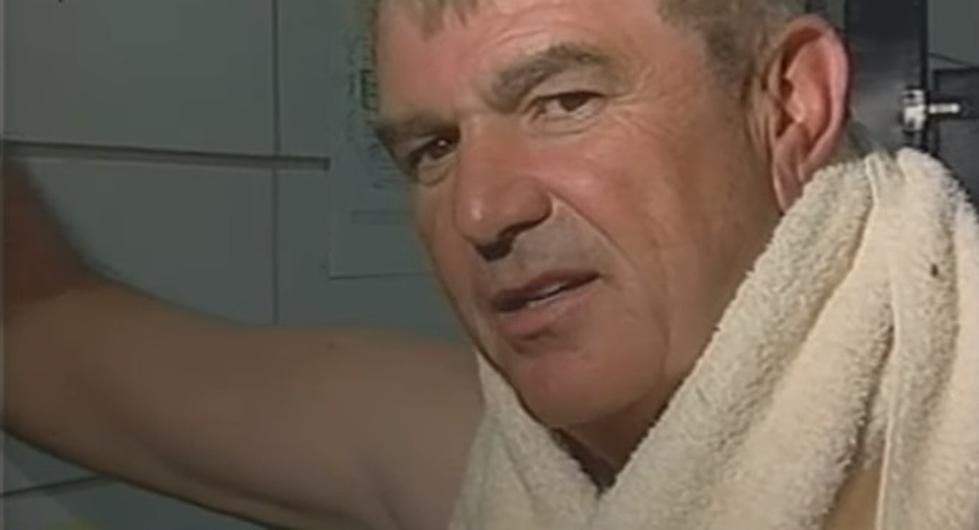 That One Time Spike Dykes Took His Post Game Presser to the Showers
youtube.com via OglePro.
Let's hop into the time machine for a minute back to August of 1996 when Kansas State and Texas Tech played the first Big 12 game ever. The Red Raiders traveled to Manhattan, Kansas for the first time ever to play Bill Snyder and the Wildcats.
If you just go back and look at the box score, Texas Tech dominated the favored Wildcats but the final score didn't reflect that with Kansas State winning 21-14.
At the end of the first half, Texas Tech's Donnie Hart caught a ball in the endzone and was called out of bounds. The next play was a no-call on a pass interference at the goal line, then the Red Raiders had an FG blocked.
Does that sound familiar to anyone? Kansas State making a special teams play against Texas Tech?
The Red Raiders nearly tripled the Wildcats' first downs. Had 193 rushing yards while holding the Wildcats to -12. They also out-passed Bill Snyder's bunch. The mythical time of possession was also in Texas Tech's favor at nearly nine minutes of game time's difference.
None of that mattered though as Kansas State took the trivia question answer of 'Who won the first Big 12 game?'
As iconic as the game is for various reasons looking back, it's Spike Dykes that shines in the post-game as he takes his postgame interview dressed in only a towel and standing in front of the showers. Enjoy this recap from John Harris or skip to 3:43 to see, I mean, listen to Spike's postgame comments.
Today's coaches are presented as polished products, generally, and all postgame press conferences at nearly every level of football involve a backdrop laden with the school logo and some sponsor.
To my knowledge this wasn't a common occurrence for the former Texas Tech football coach, Spike Dykes was built differently, even for the era.
The Recent History of Under Armour and Texas Tech's Throwbacks
The Red Raiders have been wearing Under Armour throwback uniforms since 2014 when they debuted against Arkansas. The Red Raiders are 4-5 in the throwbacks with various combinations used in the past eight seasons.
39 Stunning Photos of Patrick Mahomes' Kansas City Castle
Patrick Mahomes lives in Kansas City, Missouri, but could be in Kansas City, Kansas by crossing the street.