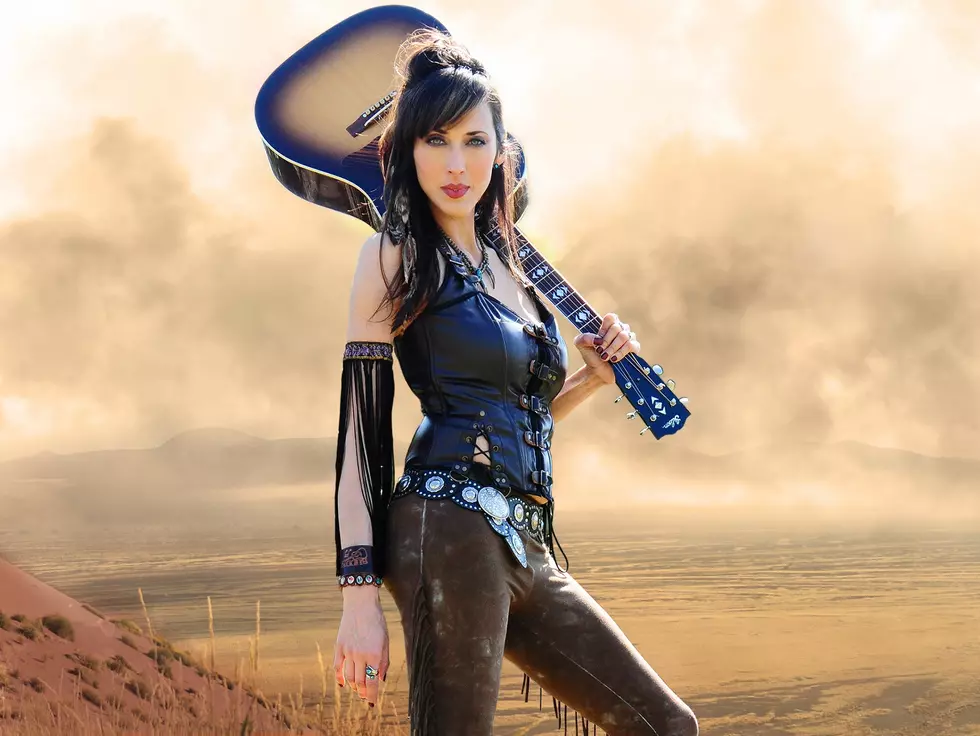 Spotlight On Multi-Talented Artist Patricia Vonne for The Buddy Holly Summer Showcase
Patricia Vonne via City of Lubbock
The Buddy Holly Center's Summer Showcase for 2022 is still going strong and this week they have a powerhouse of a multi-talented artist known as Patricia Vonne.
Patricia Vonne was born Patricia Vonne Rodriguez in San Antonio, Texas and is no stranger to hard work with her extensive background as a singer, songwriter, actress, activist and award-winning filmmaker. Vonne has been in films such as Spy Kids, Desperado, and both Sin City movies where she portrayed Dallas, better known as Zorro Girl.
Along with acting, Vonne has written songs such as "Traeme Paz," which was used in Once Upon a Time in Mexico and toured with the band Tito and Tarantula which is featured in the film From Dusk Til Dawn. Vonne is also an activist for human rights and is an active member of the United Nations' program Artists United Against Human Trafficking. In Austin where Vonne resides, she works in the Texas Music Project as an advocate for school music programs to encourage young people to stay involved in the arts.
Vonne's music style is definitely something I myself have never heard before. Like much of the Summer Showcase talent I had to listen to her music to see if it would make me feel a certain way or transport to me a different place and it made two different memories and feelings clash in an amazing way.
Vonne's music is like if you took an Antonio Banderas movie and threw in some Xena Warrior Princess, but take away her weapons and add some Texas Latin sprinkles. That's what Vonne's music does to my ears. There are the notable sounds of some Tex-Mex inspired sounds along with some Spanish undertones and the right amount of Cumbia beats with what I can describe as the hums of Texas and our indigenous ancestors.
Vonne does have a sweet spot for Christmas music since she was born so close to the day. She doesn't necessarily have all the regular Christmas music in her discography, but some revamped and original songs that are all her own personality -- like Cumbia Navidad, which could literally turn my Christmas-hating Grinch heart into a Jack Skellington Christmas-loving heart of thumping burning coal.
Patricia Vonne will be touring around Germany according to her calendar, but make sure to catch the talented Texas native at the Meadows Courtyard at the Buddy Holly Center Thursday, June 23rd, 2022 from 5:30 to 7:30 p.m.
Admission to the Buddy Holly Center Summer Showcase is free to the public, but outside food and beverages are not permitted, along with chairs, picnic blankets, and pets. Guests are encouraged to walk through exhibitions during the Summer Showcase hours.
PICTURES: See Inside Betty White's Spectacular Oceanfront Estate
The late Betty White's oceanfront estate in California is for sale after her death, and pictures show a stunning property fit for one of the most beloved entertainment icons of all time. The 4-bedroom, 4.5-bathroom, 3,621-square-foot estate is asking just under $8 million.
Are These Nostalgic 2000s Foods Making Their Return to Lubbock?
Everyone has that one food that they either grew up with, or it just held a special place in their heart. Unfortunately, a lot of them end up discontinued a few years later, and you just sit there hoping that they will return.
If you fit that description, then you'll be happy to know that there are a few snacks and drinks that are making their return after years of being off the shelves. Here are 8 nostalgic foods from the 2000s that are coming back, and will hopefully make their way to Lubbock.
Country Singers Who've Come Out As Gay
Chely Wright was the first modern country singer to come out as gay when she did so in 2010. Since then hitmakers like Ty Herndon and T.J. Osborne of Brothers Osborne have shared their story. Here are more who've opened up to the world.