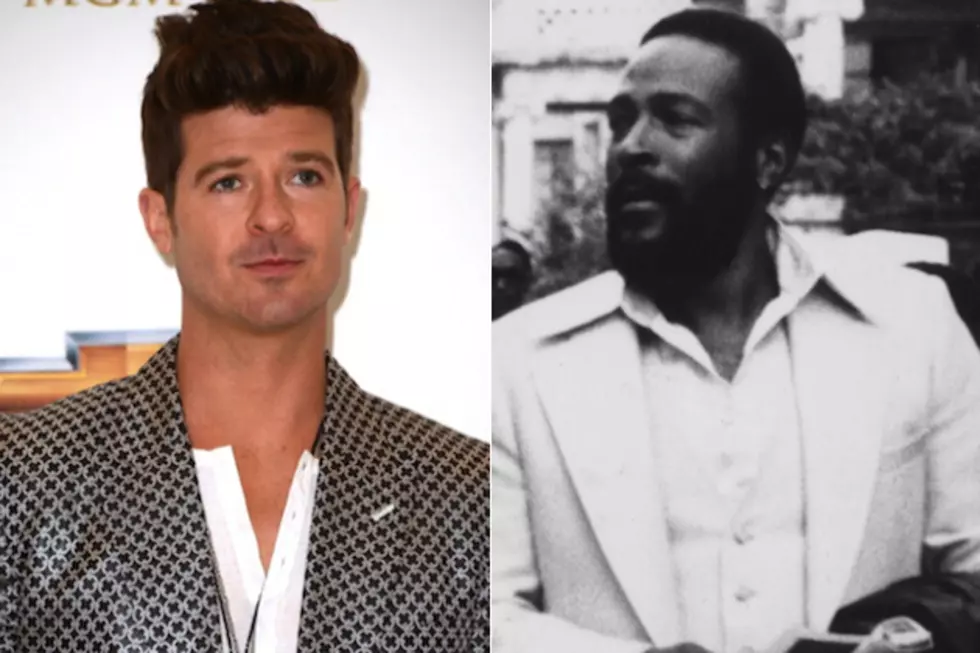 Robin Thicke Sued by Marvin Gaye's Oldest Son Over 'Blurred Lines'
Frazer Harrison / John Minihan, Getty Images
Robin Thicke is getting hit from all sides by the Marvin Gaye family over his ubiquitous 2013 hit, 'Blurred Lines.' The R&B crooner has been slapped with another countersuit over the song -- this time from Gaye's oldest son.
As we previously reported, Thicke filed a preemptive lawsuit earlier this year against the Gaye estate in an effort to establish that 'Blurred Lines' is an original composition and not similar to the late singer's tune, 'Got to Give It Up.' The singer's lawsuit has certainly angered the Gaye family.
According to the Hollywood Reporter, Marvin Gaye III, the adopted eldest son of the late singer, has filed his own counterclaim accusing Thicke of copying four of Gaye's songs.
Much like the countersuit filed by Nona Gaye and Frankie Gaye in October, Gaye III is accusing Thicke of copying four of the late singer's songs: 'Got to Give It Up' (for 'Blurred Lines'), 'After the Dance' (for 'Love After War'), 'I Want You' (for 'Make U Love Me') and 'Trouble Man' (for 'Million Dollar Baby').
Although Gaye III is only bringing copyright-infringement claims on 'Blurred Lines' and 'Love After War,' he believes the other songs show further proof that Thicke habitually steals from his late father's music catalog.
As you can see here, this is going to be a messy legal matter when it's all said and done. Blurred lines, indeed.
Watch Robin Thicke's 'Blurred Lines' Video Feat. T.I. & Pharrell Williams