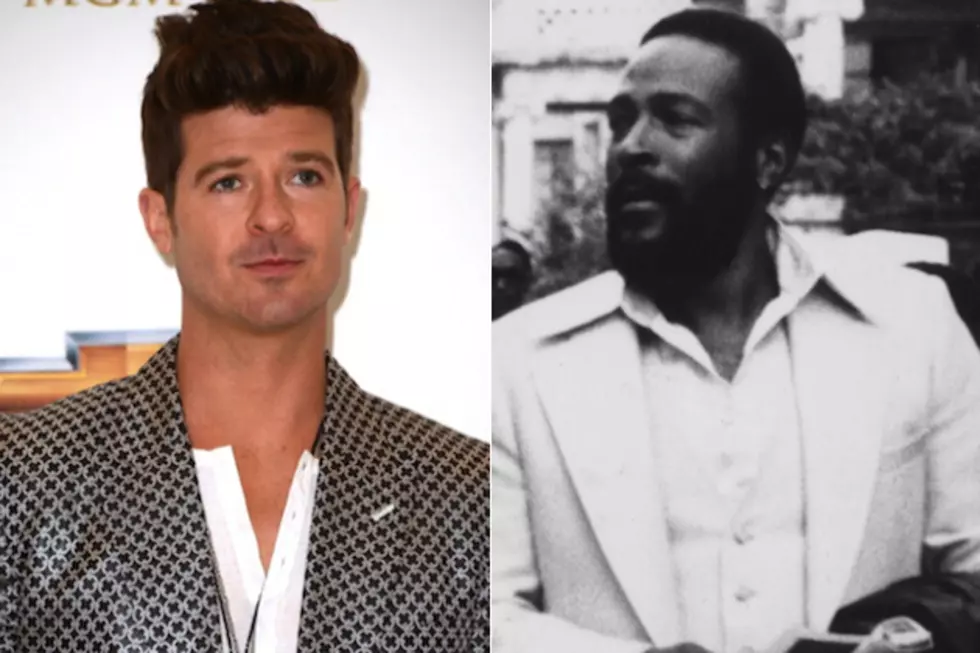 Marvin Gaye's Family Refused Robin Thicke's Initial Six-Figure Settlement
Frazer Harrison / John Minihan, Getty Images
So the plot thickens! Apparently, Robin Thicke proposed a six-figure settlement to the Marvin Gaye estate in order to avoid a legal battle in the courts over his hit single, 'Blurred Lines.' Of course, as we know now, the family rejected the offer.
According to Billboard, sources close to the situation said that Thicke offered a financial resolution to Marvin Gaye III, Frankie Christian Gaye and Nona Marvisa Gaye after they accused the singer of ripping off their late father's classic song, 'Got to Give It Up.'
This explains why Thicke filed a pre-emptive lawsuit on Aug. 15 against the Gaye family. In his suit, Thicke, along with Pharrell Williams and T.I., claim that 'Blurred Lines' is an original composition and it doesn't infringe on Gaye's song at all.
In an interview with TMZ, Marvin Gaye III is angry over Thicke's lawsuit and is not happy with how the singer is handling his business.
Clearly, at first listen, both Thicke and Gaye's tunes "sound" exactly alike.
Billboard hired a musicologist to answer the burning question -- did Thicke copy Marvin Gaye's song for 'Blurred Lines'?
New York University professor Ron Sadoff, who runs both the Film and Multimedia and Music and Performing Arts programs at the college, says not quite.
Thicke's 'Blurred Lines' may have been inspired by Marvin Gaye's 'Got to Give It Up,' but the songs' respective 'touch and feel,' as well as their use of structural musical materials, are common to many popular songs."

"From a musicological perspective, the songs share even less similarities in terms of their use of structural materials such as melody and harmony. 'Blurred Lines' is composed squarely within the major mode, while 'Got To Give It Up' revolves around the blues scale.  In this key area of melodic content, there doesn't appear to be evidence that would suggest plagiarism on the part of Robin Thicke."
However, it looks like a judge is going to have to sort this debate out in a courtroom.
But what do you think? Did Robin Thicke copy Gaye's classic song? Tell us in the comments below.