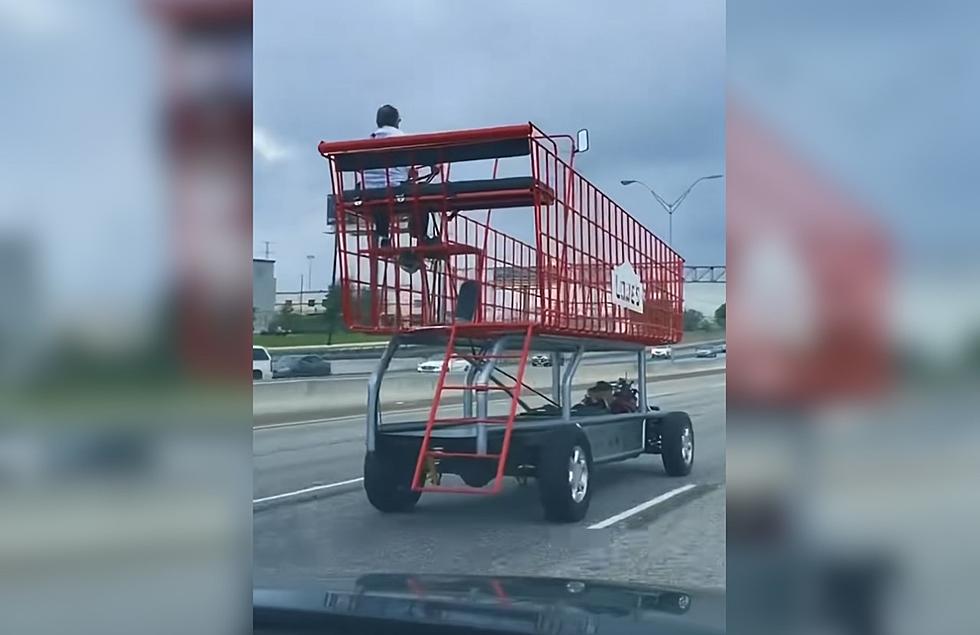 Man Drives Down Texas Freeway in Giant Shopping Cart [Video]
Laugh Hard via TikTok
There is always a variety of interesting vehicles you will find on the road in Texas. From supercars to the Weiner Mobile, it's hard to be surprised by what might drive past you on your next road trip. 
That is until you see a giant shopping cart passing you on the freeway.  
I came across a video on TikTok of a man driving a huge, motorized, Lowe's shopping cart down San Antonio's Loop 410. The man is sitting at the back of the cart, similar to how a child might sit in a normal shopping cart, with his hair blowing in the wind.  
Despite concerns from many viewers, the cart appears to be around 10 feet tall and somehow street-legal with rearview mirrors, sat belts, and plenty of visibility.  
Here are some of my favorite comments from the viral video:
@Swankytank: "Apparently he has some serious shopping to do " 
@Tayyab: "Bro's going to Costco" 
@47Ronin77: "Imagine those bugs hitting his face"  
Even the official Lowe's TikTok account commented:
@Lowe's: "The perfect cart to fill in the Garden Center for Spring"  
Apparently, the man driving the cart is actually the one who created it, Jay Ruelas. He builds all sorts of crazy vehicles including motorized coffins, a huge child's wagon, Santa's sleigh, and this giant shopping cart. His business is called Texas Corn Field Customs and you can purchase some of his creations if you'd like. 
I just hope he might make this a traveling show and come to other parts of Texas so we can all appreciate the craziness of a giant, drivable, shopping cart.  
A Texas Mansion Fit for Royalty
A Look Inside a Historic Texas Bed and Breakfast
Beautifully Unique Lubbock House