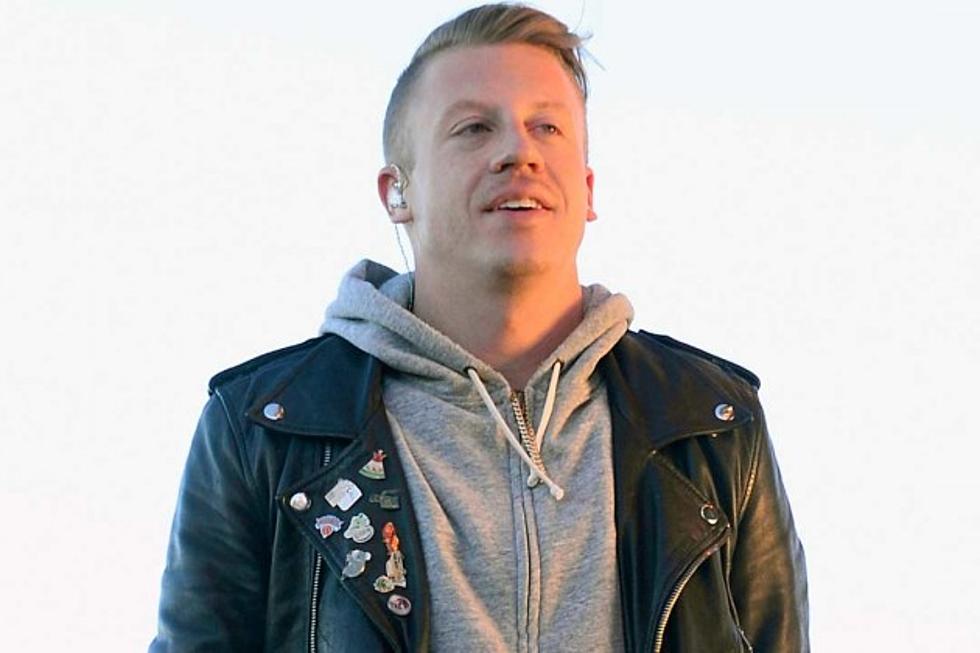 Macklemore Says Pressures of Fame Contributed to a Drug Relapse
Bryan Steffy, Getty Images
Macklemore has been open about his past struggles with drug addiction, even referencing his 2011 relapse in his song "Starting Over." And while he managed to maintain his sobriety for a while, the "Same Love" rapper succumbed to his addiction once again last year.
In a cover story with Complex magazine, Macklemore said the pressures of fame ultimately grew to be too intense for him, driving him to abuse sleeping pills and marijuana: "I was burnt out. I was super-stressed. We weren't sleeping—doing a show every day, zigzagging all over the country. In terms of the media I was getting put into a box that I never saw for myself. The pressure and the fame -- everything."
He continued, "All the clichés, man -- like not being able to walk around, having no privacy, and from this TV appearance to this TV appearance, and the criticism, and the lack of connection, and the lack of meetings -- all of that put into one pie was just…I just wanted to escape."
Macklemore sobered up for a while after his fiancee, Tricia Davis, found some sleeping pills hidden in his shoes. He tried to self-medicate with high-end retail therapy instead, buying items of increasing extravagance until eventually reverting back to drugs. He said, "I sat in a car, a hot boxed car -- I thought that was a good idea -- and got high. And then the next day it was like, What's up with the weed? And once I'm there, it's over."
Macklemore almost convinced himself to get clean a few times, but it was Tricia's pregnancy that served as the push he needed to seek out sobriety for good. He said, "I've been trying to grow up this year. Since I heard that Tricia was pregnant, I was like, I need to grow up right now."
Being sober has allowed Macklemore to focus on writing music again, something he didn't bother with during his relapse. He said, "The sobriety was the wake-up call that I needed. And, as it always works, the minute that I start actively seeking recovery -- not just sobriety, but recovery -- music is there. It always has been. Songs write themselves. My work ethic turns off-to-on in a second and I get happy again. I get grateful again."
He and Ryan Lewis are currently three-fourths of the way finished with their sophomore album, the follow-up to 2012's mammoth hit The Heist, and Macklemore already has ambitious plans for his future tours. He says he wants to focus on creating a conversation about race with his audience in a way that ensures he, as a white man, doesn't speak over the voices of minorities who actually experience racism everyday.
He said, "How do I participate in this conversation in a way that I'm not preaching, where I'm not appearing like I know it all? 'Cause I don't know it all. I'm learning every time I have a conversation around the issue. How do I affect change? How do I not preach to the choir? How do I authentically initiate discourse without co-opting the movement that's already happening? You are constantly having to check your intention as a white person doing any sort of antiracist work."
Macklemore wants to incorporate some kind of open forum, or town hall-esque format, into his next tour to do it. He said, "A concert's not going to do it. Regardless of the song that I write, or that ends up coming out, it's not going to do it. It's going to be a tiny piece. This needs to be part of my life's work, if I'm going to be authentic in the discourse—not, Let me jump in when I'm supposed to; let me jump out when I want. Because, as a white male, the system's designed for me to forget this shit quickly after I learn it. It is so easy for me to get back into my place of privilege and forget all of it. And I don't want to be that anymore. I don't want to do just enough to get by in the conversation."
You can check out the full interview over at Complex.
See Yearbook Photos of Celebrities Like Macklemore + More