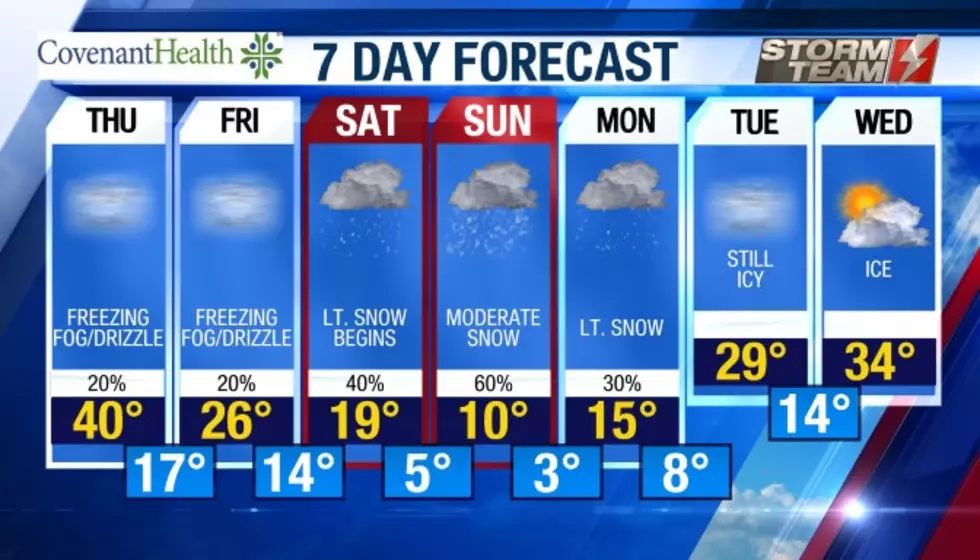 Lubbock Police Respond to Over 90 Accidents During Wednesday Morning's Winter Weather
Ron Roberts' 7-Day Forecast via KAMC-TV
The overnight hours of Wednesday, February 10th, along with the morning commute, ended up being hazardous for some Lubbock drivers.
A combination of temperatures in the 20s, plus some sleet and light snow, created icy and slick conditions across Lubbock streets.
In the 12-hour period on Wednesday from midnight to 12 p.m., Lubbock police officers responded to 94 traffic accidents. Four of the accidents were hit & runs, 15 accidents had people suffer injuries, and 75 accidents had no injuries.
Lubbock police are urging drivers to use extra caution through the weekend as winter weather, along with temperatures as low as 1 degree are forecast for Lubbock through next Monday, February 15th.
Ron Roberts' 7-day forecast has been revised to show a combination of freezing fog, drizzle, and snow in Lubbock over the next five days. This will cause road conditions to deteriorate over the next five days.
A Winter Weather Advisory has already been issued for Lubbock and the South Plains . The advisory stretches east to the Metroplex, then to Arkansas, Missouri, Kentucky, and further east to Appalachia, Pennsylvania and New Jersey.
City of Lubbock road crews started treating highways and major streets late Wednesday. During Lubbock's last major winter weather event, some streets and highways ended up being closed. It wouldn't be surprising if that happens again.
KFYO's Rob Snyder and KAMC's Ron Roberts will have the latest winter weather updates on News/Talk 95.1 & 790, KFYO this weekend.
With this weekend's temperatures not expected to get above 20 degrees, if you do have to drive, make sure you have a bundle of emergency items in your vehicle in case you get stranded:
Blankets, winter coat, mittens, socks and hats
Ice scraper and snow brush
Flashlight with spare batteries
Jumper cables
First-aid kit
Bottled water
A Swiss Army knife or Multi-tool
Road flares and reflective warning triangles
Windshield cleaner
AAA Texas also reminds motorists driving during winter weather to:
Make sure your headlights are on. In fact, it is a good idea to turn on your headlights any time you drive, because you will increase your visibility in any conditions.
Reduce your speed and leave plenty of room to stop. You should allow at least three times more space than usual between you and the vehicle in front of you.
Brake gently to avoid skidding.
Do not use cruise control on any wet, snow-covered or icy roads.
Be aware of possible icy roads. Be especially careful on bridges and overpasses, which freeze sooner than roads. And even at temperatures above freezing, if conditions are wet, you might encounter ice in shady areas or on exposed roadways like bridges.
Be careful on infrequently traveled roads, which may not be cleared as often as other roads.
---
20 Pictures From Lubbock's First Snowstorm of 2021
Enter your number to get our free mobile app