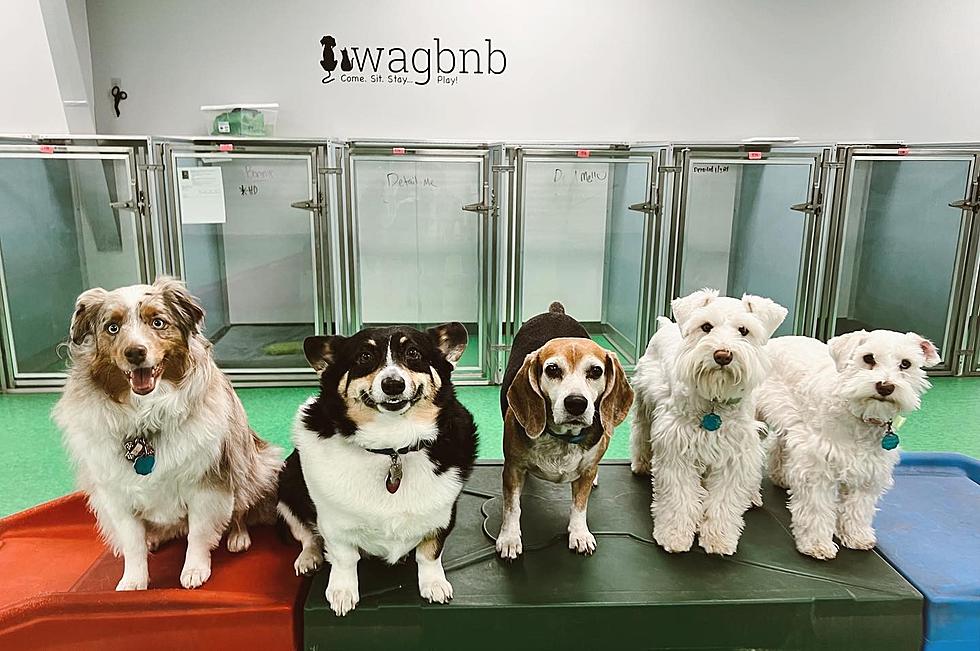 Need A Place For Your Animals To Stay? One Lubbock Pet Hotel Is Expanding
Wagbnb
Lubbock's come, sit, stay and play one-stop animal hotel is expanding.
Wagbnb opened back in September 2020 here in Lubbock. They call it an upscale pet hotel, daycare, and spa for all breeds and sizes.
Their current facility off of Indiana offers 21,000 square feet of indoor fun and 15,000 square feet of outdoor area.
They offer daycare to just drop your animals off while you have a busy day or overnight stay. They even offer mobile pick up and drop off.
They offer three different rooms. The luxury suites are the biggest with a TV, a twin bed, live webcam streaming and lots of room for roaming. It is about 13' by 8' and will sleep multiple family pets. The suites are $80 for one dog and $70 for multiple dogs.
The next size is the apartments which are 4 by 4, 4 by 5 and 4 by 6 and will sleep multiple family pets and includes a raised pet bed. The apartments are $45 for one dog or $40 for multiple.
The other bedroom option is the bedroom. They are 4 by 4 and 4 by 6. They sleep multiple family pets and also include a raised pet bed. These are around the play area. This room is $35 for one dog and $30 for multiple dogs.
They don't just take cats and dogs. They will even watch pocket pets, birds and reptiles.
Maegon Flores writes, "I love taking my pet here! She always comes home tired but very happy. 10/10 recommend for your daycare and boarding needs."
Well, they are finally expanding to another location to offer a closer location for those on the other side of town. Their new location will be at 6024 4th Street. There is not a set opening time frame yet.
You can go check them out at their original location located at 3305 116th Street Lubbock, TX 79423 or find out more about them on their website
RANKED: Here Are the 63 Smartest Dog Breeds
Does your loyal pup's breed make the list? Read on to see if you'll be bragging to the neighbors about your dog's intellectual prowess the next time you take your fur baby out for a walk. Don't worry: Even if your dog's breed doesn't land on the list, that doesn't mean he's not a good boy--some traits simply can't be measured.
LOOK: Here are the pets banned in each state
Because the regulation of exotic animals is left to states, some organizations, including The Humane Society of the United States, advocate for federal, standardized legislation that would ban owning large cats, bears, primates, and large poisonous snakes as pets.
Read on to see which pets are banned in your home state, as well as across the nation.