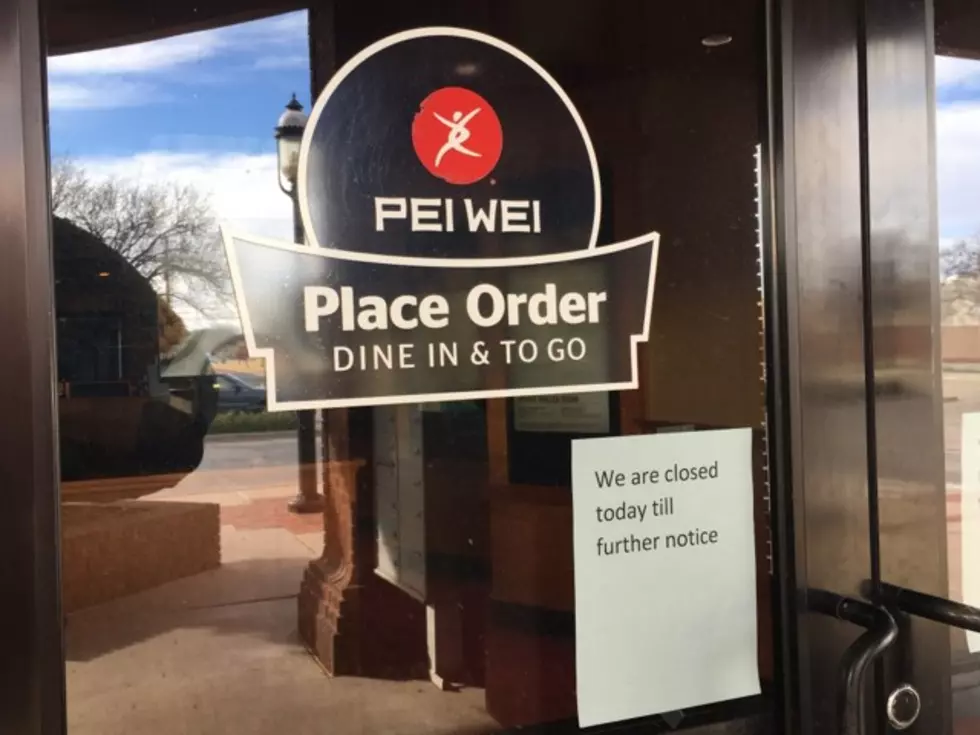 Pei Wei in Lubbock to Reopen Friday, Says General Manager
Justin Massoud, Townsquare Media Lubbock
Enter your number to get our free mobile app
---
---
Update #2: We spoke to Pei Wei's general manager Friday morning, and he told us employees are cleaning up the kitchen after a gas leak was repaired. They're just waiting on Atmos to send out a worker out and give them a green light to reopen.
Update: Pei Wei issued a statement Thursday afternoon to Everything Lubbock that their Lubbock location was in fact temporarily closed due to a gas leak. The restaurant is expected to reopen Friday.
Original Story: Our friends at Everything Lubbock discovered that Lubbock's Pei Wei location is "closed today until further notice" according to a sign on the door.
Further, the website said someone there attempted to make an order, were placed on hold for 20 minutes, and then told by an operator only that the restaurant was closed today. No other information was provided, they said.
As our radio station is right across the street from Pei Wei, we went over to investigate for ourselves, hoping that we might run into someone who might have some answers. But no one was seen inside the restaurant.
We also contacted the manager at P.F. Chang's at Lubbock's West End Center, and he was kind enough to inform us that the two restaurants were no longer affiliated.
After multiple attempts to contact the corporate offices of Pei Wei, we were unable to reach anyone. We've submitted emails and more, and will update as soon as possible when we find out more.
Unfortunately, we're still in the dark, but judging by various clues, this doesn't look good for Lubbock's Pei Wei. The Amarillo location closed abruptly and never reopened. No explanation was given at that location either from what we can tell. There does seem to be some rumors of a gas leak, which, if true, would be solvable quickly. But we have not confirmed that information.
Of course, if this is much ado about nothing, I'll be one of the first in line when it reopens to get my Firecracker Shrimp back.