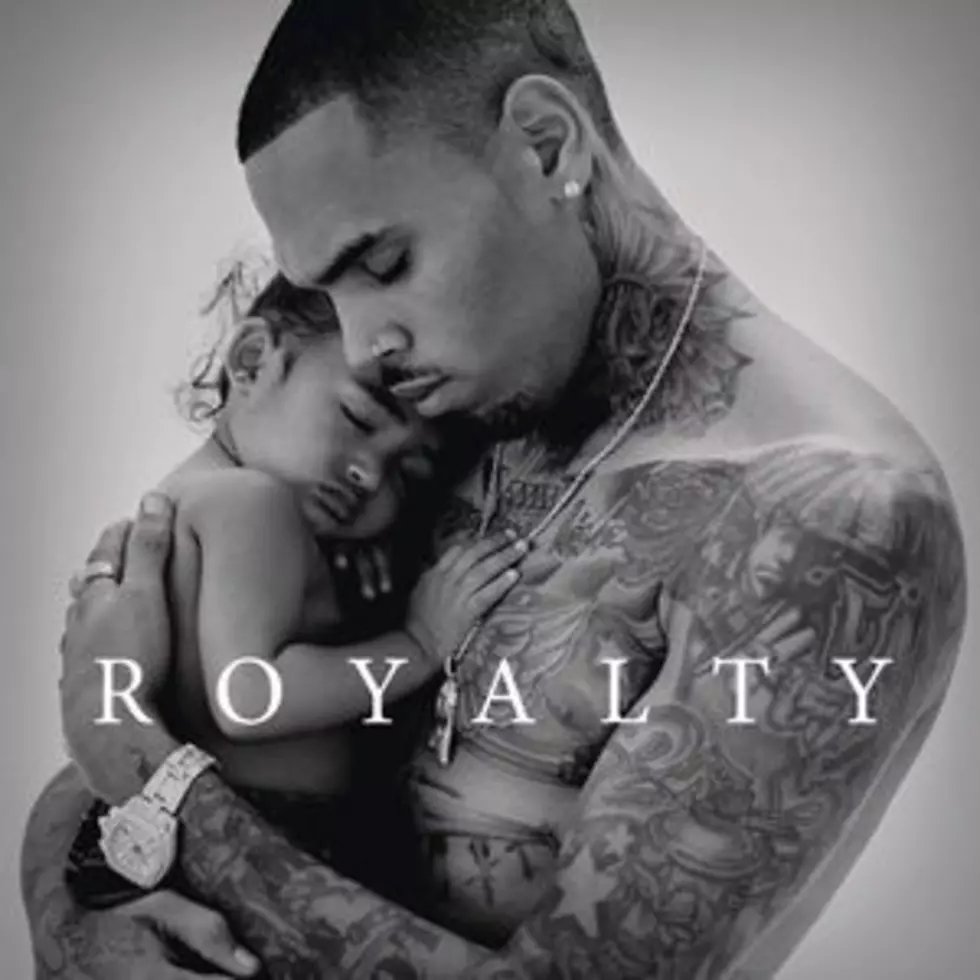 Chris Brown, 'Royalty' [ALBUM REVIEW]
RCA Records
The cover art for Chris Brown's latest album Royalty suggests a much more mature, adult performer. It's a beautiful black-and-white photo of him and his daughter (whose name inspired the title of the album). It's not a glorified portrait of Brown in the spotlight. It simply showcases a tender moment between him and his new love.
Chris Brown is an artist who could really have used some growing up in the past years. He started his career as a teen sensation who could move like Michael Jackson and sing like Usher. His early releases defined a young, innocent singer. Then it turned out he wasn't so innocent after all and needed to mature in other ways. After his famous domestic abuse scandal following his altercation with Rihanna before the Grammy Awards in 2009, it looked like his career might be completely doomed.
Brown has maintained his status even after the scandal, but he's still needed to grow some. He infamously got into fights with fellow artists like Frank Ocean and Drake. He's had trouble with the law, including assault and violating probation. His music hasn't been free from controversy since the Rihanna incident either. He obviously could not realistically portray a young, innocent singer any more. His music was more sexually explicit than before. It became more confrontational, at times aiming at his haters and the women of his past, which didn't sit well with some considering he was coming off a domestic abuse case.
Watch Chris Brown's "Back to Sleep" Video
So it does seem like Brown has matured since the birth of his daughter. He's reportedly started changing his life around, quitting smoking and cutting back on his drinking. If you look at his social media, you're probably more likely to see him taking his daughter to the zoo than you are to see him popping bottles in the club.
That's why Royalty largely seems like a bait-and-switch. After hearing about these changes in his life and seeing the cover of him and his daughter, there's an expectation that Brown will largely focused on how his life changed since her birth, however, his trite sex jams diminished that a little bit. There's some heartfelt moments on the collection, but for the most part this is par for the course for Breezy.
Things become abundantly clear within minutes that while the 26-year-old crooner might be changing his ways, the music hasn't. "Back to Sleep" starts off with a great atmospheric beat, courtesy of Boi-1da and Vinylz, but goes downhill fast with lines like "Let me rock, f--- you back to sleep, girl / Don't say a word no, don't you talk / Just hold on tight to me girl." A different artist might be able to pull this track off, but considering Brown's history it comes off as slightly discomforting.
Watch Chris Brown's "Liquor/Zero" Videos
The songs that come after don't do much to help, either. On "Liquor," Brown proclaims that "All I want to do is drink and f---, drink, drink and f--- / All I want to do is drink and f--- and f--- and f---." On "Who's Gonna (Nobody)," the singer basically says he's the type of guy who will "f--- up your life" after sex and says he'll stalk her if she doesn't answer his calls. A song like "Back to Sleep" might be able to be more successful in a different context, but "Who's Gonna (Nobody)" would sound creepy coming from anybody. It's just gross. Is Breezy trying to pick a girl up with these lines? That's how you get girls to run away from you, Chris.
Other songs don't work for other reasons. "Picture Me Rollin'" samples Warren G's "Regulate" and Brown emulates the late Nate Dogg's flow on the track. Replicating a song as iconic as "Regulate" is a daring choice, but the end result feels like a cheap imitation that will just make you miss Nate Dogg's presence even more.
Royalty does have quite a few moments that work well. The production is largely stellar. If not for the lyrics, "Back to Sleep," would be an absolute jam because of the beat. Tracks like "Zero," "Fine By Me" and "No Filter" are more dance-friendly than slow jams and work a lot better than the other songs.
Watch Chris Brown's "Picture Me Rollin'" Video
The Grammy-winning crooner does get more personal on a few songs towards the end. "Proof" is a song about a breakup and trying to convince the girl not to leave. Unfortunately, it also pretty much puts all the blame on the girl and absolves himself of any fault for the failure in the relationship. While the song doesn't really work because of that, attempting to show more emotion is a welcome change.
What does work is the last tune on the standard edition of the album, "Little More (Royalty)." It's really the only song that directly talks about Brown's daughter. Unsurprisingly, it's also easily one of the best tracks on the entire project.
When Breezy talks about how Royalty inspires him in everything he does, it's believable. Part of that is because of things like that album cover and all the social media posts that seem like he's genuinely happy to be a father. But a lot of it is that he sounds like he means it, and that goes a long way. However, the album sounds empty. The "I love my daughter" Chris Brown is a lot easier to listen to than the "If you don't answer the phone I will ruin your life" Chris Brown. The difference is jarring.
Hopefully, Royalty is a stepping stone for a mature Chris Brown. The Virginia native looks like he's making strides to better his life for his daughter's sake, but it's not immediately evident in his music yet. He needs more honesty and less meaningless sex and partying in his songs first. In the meantime, the album doesn't accomplish much good outside a few standout tracks.
Watch Chris Brown's "Little More (Royalty)" Video