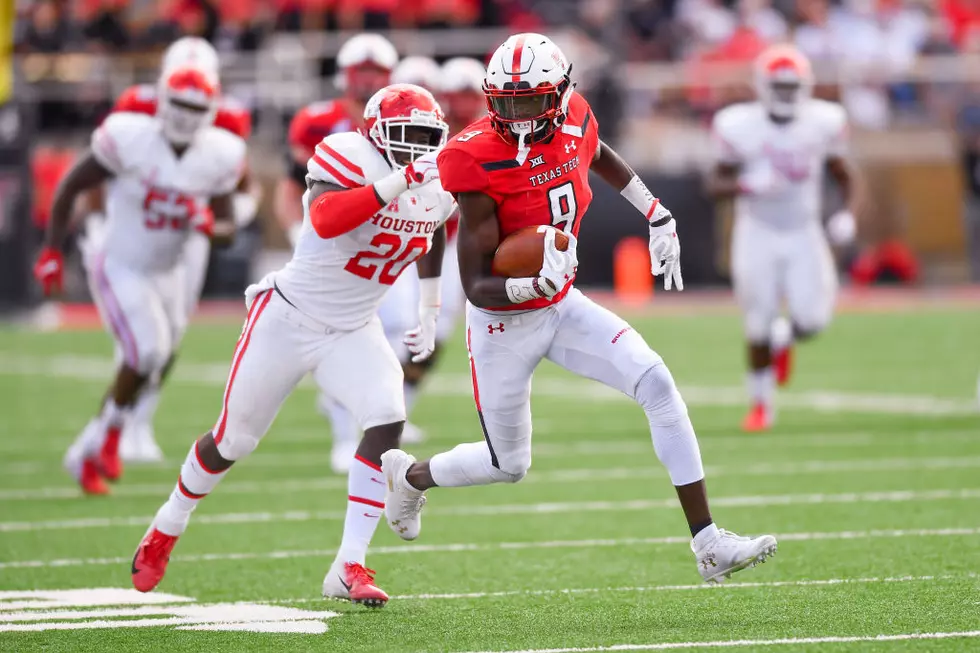 Can Texas Tech Welcome Houston to the Big 12 Appropriately?
Getty Images
When Texas Tech went on a five-game winning streak over Houston to close out the Southwest Conference in 1995 I bet Texas Tech was really glad to be away from Houston. The Cougars dominated the Red Raiders early in that matchup. So much so that Texas Tech has won 9 of the last 10 and Texas Tech is still behind in the overall series matchup 18-14-1.
Now nearly thirty years after their final game as conference opponents, the Red Raiders and Houston Cougars are preparing for their final game as non-conference opponents. When the two teams play in 2023, it will be a Big 12 contest, but for some reason, this non-conference game feels like it has higher stakes.
The Red Raiders fought back after a rough first quarter at a neutral site last year in Houston at NRG where the Texans play. Texas Tech ended with a 17-point victory after not touching the ball in the first quarter. Houston didn't lose another regular season game, and their only other loss was to Cincinnati who punched their ticket to the College Football Playoff with the AAC Championship over Houston.
Houston now comes to Lubbock looking to prove that they belong in the Big 12.
In a similar situation last year, the Texas Longhorns and Arkansas Razorbacks played a football game as future conference opponents and former Southwest Conference Opponents. Arkansas, now playing in the SEC, said welcome to the thunderdome b!tch and stomped the Longhorns 40-21. S-E-C, S-E-C, S-E-C.
I don't expect Big 12 chants to rain down in Lubbock when Houston and Texas Tech matchup on Saturday, but I do expect a tense battle of two former and future conference foes. This should feel like a Big 12 Conference game.
I also expect Texas Tech to beat Houston like Arkansas beat Texas to welcome the Cougars into the Big 12 appropriately. It's an odd matchup in Vegas in a couple of ways. First, Houston is the ranked team, but the Red Raiders are the close favorite. The ESPN FPI says that Texas Tech has close to a 65% chance to win the game. Only one of these teams is expected to compete for a conference championship though, and that's Houston.
Against UTSA, Houston's offensive line looked susceptible to the pass rush. They also didn't feel particularly explosive for most of the game. The Houston quarterback Clayton Tune can and will run the ball. Houston has some fantastic athletes on offense, including two former Red Raiders, but they are as dynamic as years past.
I think Houston will score, but Texas Tech will score more. I'll take the Red Raiders and the OVER with a score of 41-31. The total is set at 63.5 and Texas Tech is favored by -3 at the time of this writing.
Dana Holgorsen knows Lubbock. He knows how dangerous The Jones can be when the team and fan base have confidence. My hope for the weekend is that Jones AT&T is awakening to how it was in the mid-'00s when Holgorsen was in the pressbox for Texas Tech
If that Jones Stadium shows up, I might have given Houston too much credit in my score prediction.
10+ Country Music Stars that went to college in Lubbock
Mostly Texas Tech, but LCU can claim Aaron Watson
These 11 Lubbock Spots Need to Be Served at The Jones
Texas Tech Will Go 5-7 if the FPI is Correct
The ESPN FPI, or the Football Power Index, is a mathematical formula like they have in any other league. It claims to, "measure a team's true strength on net points scale; expected point margin vs average opponent on a neutral field." according to ESPN. The projected results are based on 20,000 simulations of the rest of the season using the FPI as a model. The preseason projections are incomplete because a large piece of the puzzle is results that have already happened, impacting the remaining schedule. So, based on half the puzzle, Texas Tech is projected to get wins in five of their games. These projections change daily once the season starts, but it's good to get a baseline on what is analytically expected of you heading into the season.