'American Horror Story: Cult' Minds Its Beeswax in New Poster and Tease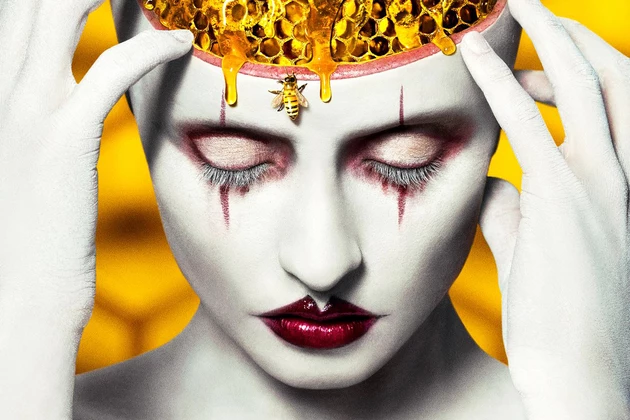 Much as we'll miss the random guessing game of American Horror Story teasers, that Cult isn't going to indoctrinate itself. Join the hive with a new bee-themed Season 7 poster, and an even more cryptic promo.
FX released its first promotional artwork for American Horror Story: Cult, providing closer connection with the once-cryptic bee clue posted by Ryan Murphy, and at least one bee pun. We're still not 100% on the connection between clowns, bees and cults, but this is the same series that once mashed aliens, demons and murder-santas into a single season, so …
Be of like mind. The official poster for #AHSCult is here. pic.twitter.com/oRGmYQXXia

— AmericanHorrorStory (@AHSFX) July 27, 2017
Were that not enough, the viral Cult campaign also provided a new teaser with some cryptic numbers; presumably renaming all its cult members:
Subscribe to 1025 KISS FM on
Elsewhere of Season 7, now set for a September 5 premiere, Carrie Fisher's daughter Billie Lourd has also joined in a mysterious role, along with Lena Dunham, Allison Pill, Colton Haynes, comedian Billy Eichner and Popular alum Leslie Grossman. In addition to returning stars Frances Conroy, Mare Winningham, Cheyenne Jackson and Adina Porter, Season 7 might feature the return of several other characters from American Horror Story: Freak Show, while a separate upcoming season was said to bring together Murder House and Coven characters.
Season 7 will reveal further details soon, so watch the teaser below and stay tuned for the latest on American Horror Story: Cult.
Subscribe to 1025 KISS FM on
Subscribe to 1025 KISS FM on
Subscribe to 1025 KISS FM on

Source:
'American Horror Story: Cult' Minds Its Beeswax in New Poster and Tease